Boy Genius by Jennifer Tanner
26 year old Jennifer Tanner has put out an amazing series of webcomics! Similar to Puny Parker, this one chronicles the life of a young Doctor Octupus.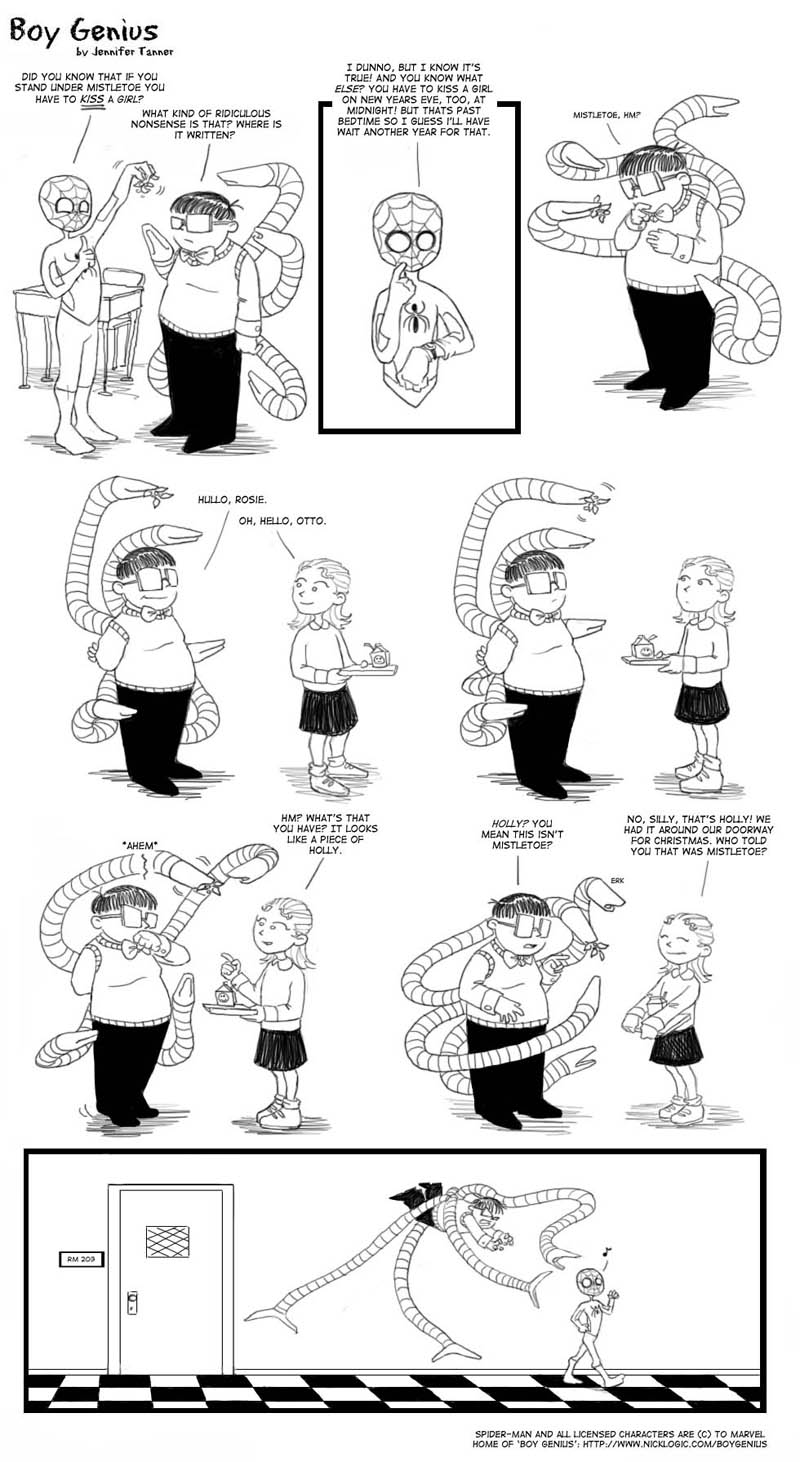 So tell me a little about yourself.
I like bagels with cream cheese, thought-provoking movies, big loyal dogs, warm fleece blankets, Captain Picard, and the smell of summer after a thunderstorm. I don't care for Mexican food, the sound of a screaming baby, winter weather, huge crowds, or the dentist chair. To unwind, I like to meet up with some good friends for a girl night out, check out the latest movie in theaters, visit the museums downtown, window-shop, or raid some tombs. You know – the usual.
Raid some tombs? And that's the usual? Anyway moving along . . how would you describe your artwork?
I'd like to think of my artwork as an extension of my personality – light, comedic, and uncluttered but with darker undertones for the times it's necessary. I've always preferred working in black and white/grayscale rather than color – I'm not sure if that's completely based in the kinds of art that has influenced me over the years or if it's more because I've seen a lot of bad art trying to hide behind eye-searing color! Pencils have always interested me more than fully inked work because to me, the rough pencil on paper is the illustrator's voice and soul; unpolished and vulnerable. There is nothing better to me than a few perfectly placed pencil strokes on a stark white piece of paper.

When did you start drawing?
I started drawing when I was old enough to hold a pencil and continued all the way up through high school until I was faced with the question of where to go to college. At the time I didn't know you could make a career out of comics, I thought it was just something people did on the side while still holding down a regular job. I attended The Savannah College of Art and Design and majored in Sequential Art (comics!). It was definitely a worthwhile experience and I learned a lot while I was there, but the learning process hasn't stopped just because I graduated – it's never ending!
Do you have any favourite comics?
Bill Watterson's "Calvin and Hobbes" and Terry Moore's Strangers in Paradise" remain my two favorite top collections of artwork on my bookshelf. I read through them all periodically as a refresher course in what I believe makes a great comic artist – the ability to generate so much emotion through so few facial expressions, the importance of not taking the world (or yourself) too seriously, and the power of a great story teller to drag you out of your world and plunk you firmly in their own; forgetting that what you're reading is purely fictional.
Onto Boy Genius . . I love the strip! I'm slowly working my way through the archives. How did that start?
The hub-bub around the release of the second Spider-Man movie spurred me to take the iconic figure of Peter Parker and twist it around into something I loved to do anyway – to look at the world through a kid's eyes. Life's problems are all relative to your individual situation, so what is catastrophic to a kid is probably menial to an adult, and somewhere in-between there lies the humor. Taking these kids who are all eventually going to grow up into super heroes or super villains and putting them in everyday events was ridiculously funny to me. The dynamic between the different personalities of Peter and Otto was just too good to pass up.
What kept you going? (and why did you stop?)

There was no shortage of funny when I considered the situations I could put the characters in, even though most of the time the comics had little to nothing to do with their individual super powers. It was all so absurd and made me laugh even as I drew it. I eventually left Boy Genius on the back burner because there were other dusty art projects that needed love too – and at the time I felt I should try to develop my own characters that weren't copyrighted by Marvel!
Any particular favourite moments in Boy Genius?
I'd have to say I really love the strips concerning simple conversations between Peter and Otto, but my all time favorite strip is probably the mistletoe one – Otto presents a piece of mistletoe for Rosie's consideration, but discovers much to his chagrin that it's merely a sprig of holly. Guess who misinformed him?
Hehe . . I loved that one too. (BTW it's the showcase piece!) How do you search for more inspiration?
Just remember that creating art should never be a chore – the minute you realize you're bored of writing a comic or feel fresh out of ideas, step away and do something else for a while. People can tell when you're bored of your own work! Inspiration will find you when you least expect it. Take criticism with a grain of salt, and draw, draw, draw. There is no such thing as drawing TOO much.
Thank you so much for your time!
And letting me show off one of your strips!
For more on Jennifer Tanner check out her website :
http://www.jennifertanner.com
More of her art :
http://www.silver-sehkmet.deviantart.com
Posted: April 27th, 2009 under art, comic, Featured Artist.
Tags: artist, comic, comic strip, dr octupus, jennifer, online, spider-man, spidey, tanner, webcomic
2 Responses to "Boy Genius by Jennifer Tanner"