Black Cat by Frank Kadar
Brooklyn born Frank A. Kadar currently lives in Englewood, NJ with his 8 year old Daschund. There are two pieces of work he's showcasing to illustrate his pencils and inking techniques.
Pencil work of Black Cat
I like the feel of this piece! Frank did a great job capturing the subject as well as the wind rushing through her hair. Love the attention on the subject as well as on the background.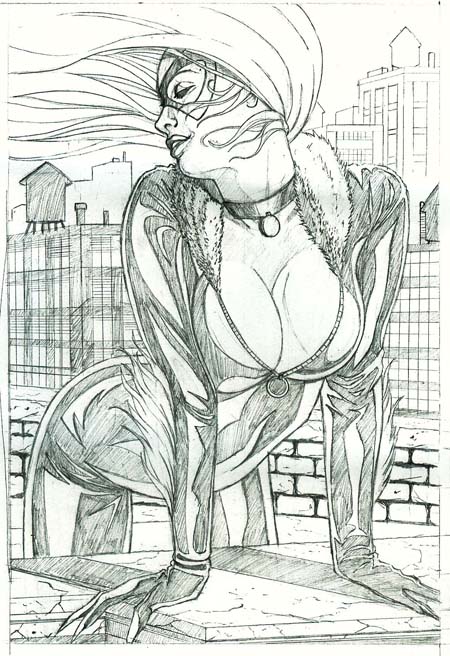 Pencil and inks of Phoenix
Similar to the first piece, you can see the time and effort Frank has put in to show all the details especially with the background.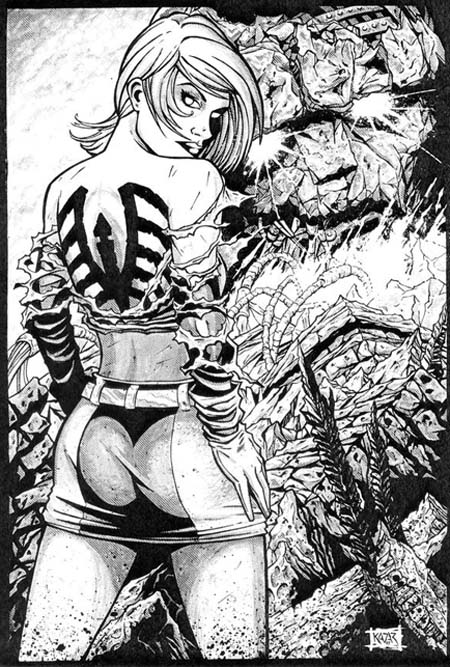 When did you first get into comics?
My dad bought me my first Spider-man comic and I fell in love with comics ever since. I can remember starting to draw, more like doodle, at the age of 5. After I graduated from high school, I went to the Joe Kubert School of cartoon and graphic art. It was the best 3 years I had in any school. I was taught by the best, including from the master Joe Kubert himself.
How was it like at Joe Kubert?
I loved it at the Joe Kubert school. I was amongst great peers and teachers. We all shared the same common interests. It was very inspiring to be there. Everyone had different styles and talents and we all pushed ourselves to get better and better.

That's awesome. So what did you when you graduated?
After I graduated, I did some freelancing and landed a job doing production work translating manga for various companies including Marvel comics. Through that job, I did some sketch cards and colored in some covers for Marvels Spider-man and X-men manga line. After that job, I actually got involved with the NYC nightlife. I started designing artwork, logos, flyers for various clubs and DJs. In the process, I became a DJ for about 6 years. I retired in 2006 to focus more on my art and it was the best decision I made. Right now I'm an assistant art director at my current job for 8 years. In the meantime, I'm currently building up my portfolio to hopefully work in the comic book industry again. It was so much fun and I would love to do my own graphic novel someday.
Wow sounds cool being a DJ and enjoying the nightlife! Anything else you do for fun?
Spend time with my dog and with my friends. I also like to cook and try new different types of food. Beat the newest game on Xbox 360. I'm usually down for anything fun that doesn't kill me.
Getting back to your work. How would you describe your artwork?
I would describe my artwork as something that would make people go "wow thats awesome!" or something to that effect. I try to make it as if my art was going to be published and people would buy it up in a second just for the art. My dream is to paint book covers and movie posters. That's the first thing people will always see. Even for movie posters, most people, including me, have seen a kick ass movie poster and say, I will see that just because of the art. Drew Struzan does that for me and he's one of my biggest influences. Some of my other influences are Jim Lee, Marc Silvestri, Brian Bolland, Chris Bachalo, Alex Ross, Joe Jusko, Simon Bisley, J Scott Campbell, Arthur Adams, Travis Charest, Adam Hughes, Frank Frazetta, Tim Bradstreet, Bruce Timm, and Oliver Coipel.
That's a great list of artists. What's your current occupation?

Well in my current job, I'm assistant art director/graphic designer/production artist. What I do is I assist the art director and I design artwork for in-store displays, trays, and cartons. You can see most of them in supermarkets, malls, newsstands, Staples, Costco, Walmart and department stores. Some of our major clients are John Frieda, L'oreal, Johnson & Johnson, Trident, Dentyne, Stride, Pilot and some other well known brands. Basically you can say I'm the unknown artist with my art everywhere to be seen. We don't inspect portfolios. Its sort of a typical 9 to 5 job but dealing with the production industry.
You mentioned earlier that you would like to create your own graphic novel. Care to elaborate?
I had this idea brainstormed since high school. I have the characters created but they always go through redesigns over the years. I have a general plot outlined too but that also keeps going through changes too. The story will be pretty epic and it would have a beginning, middle and end. It will be a sci-fi story. It would start with an alien invasion but not your typical one that has been done before then the whole epic saga would unfold from there until the death of the characters. Well right now, I can see it all as personal work but hopefully that will change in the future. It would be great to hook up with an established writer to flesh out details. Also, I don't know if it would be set up as an actual comic book style or not. I want to do something different that hasn't been done or rarely done these days. Someday it will happen!

How about established characters? Who would you love to get your hands on?
One of my other dreams is to work on Spider-man or Batman in some shape or form. I also have a story idea for both characters to cross over which hasn't been done before which I think would be awesome.
Thanks so much for your time and for sharing your artwork! Wish you all the best in your future endeavours!
For more of Frank's work check out http://shadowchaser076.deviantart.com/ or email him at shadowchaser076 [at] yahoo.com.
Posted: February 27th, 2009 under art, comic, Featured Artist.
Tags: art, Black Cat, comic, phoenix, sexy, sketch
34 Responses to "Black Cat by Frank Kadar"