Pillow Fight by Arie Munroe
From Kansas City, Arie Monroe was kind enough to share one of her works "Pillow Fight". It'll probably be best to let the artist describe her work for herself.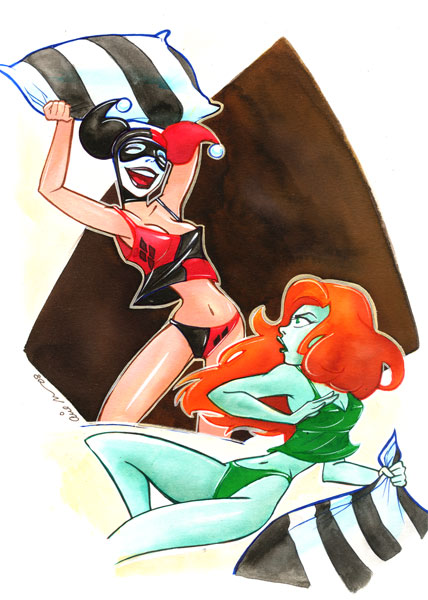 So . . . tell me more about this piece.
This is a fun illustration. The style is inspired by Bruce Timm but also has a little bit of anime influence as well. I love the way Timm uses color though and I wanted to bring that into some of my own work. The materials used are color Prisma Color liner and Dr. PH. Martins translucent watercolor. These are great cause when you paint with them the color is very bright and rich but it retains the quality of your line work as well instead of covering it the way regular water colors will.
I like to do playful fun but sexy stuff so I guess that was the idea behind this illustration. I wanted to show the characters' personalities as well as having Harley be her carefree self and Ivy being annoyed but prepared to participate and defend her honor. I usually start with a few sketch poses. I choose a pose blow it up and refine it into a more finished rough. After that I do finished pencils and inks and then add some paint.
So where are you from and how did you get into illustrating?
I am originally from Kansas City but lately I seem to be a bit of a nomad. About 3 years ago I left home to go to school at the Joe Kubert school in Dover, NJ. I quit and started working at an illustration company in NY after my 2nd year ended. After about a year there, which I loved, I was forced to move again to Ohio and I have been freelancing and doing private commissions from my home ever since. At some point I hope to get back into a studio environment cause I love the inspiration other artists bring to the table.
So what keeps you going?
Any favourite foods and / or loves?
My favorite foods are Bok Choy and homemade pita pizza. And I love animation and comics.
For your work, how would you describe your style? Any particular artists that have influenced you?
I have a very wide variety of influences. Everything from Norman Rockwell, Hiroaki Samura, Disney and Frank Frazetta to Claire Wendling, Bruce Timm, and Rumiko Takahashi. I would say my style is a cross between the old anime style and Disney with a little bit of comics all mixed together. That I guess is where I get the big eyes and then sexy bodies in most of my pin up work. I also tend to work in a wide range of styles but am trying to tame that down cause it confuses people. All and all it just depends on the requirements of the project.
Thanks for your time Arie!
Also as a special treat, Arie wanted to show a simple design process from beginning to end.
Initial sketches to establish pose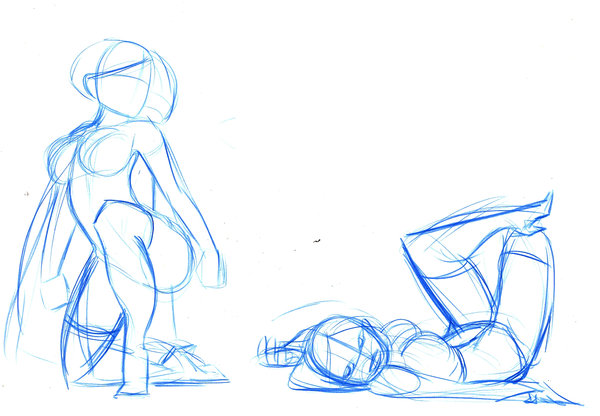 Inked drawing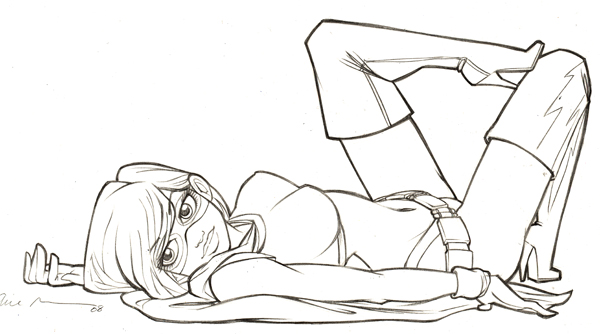 Final completed colours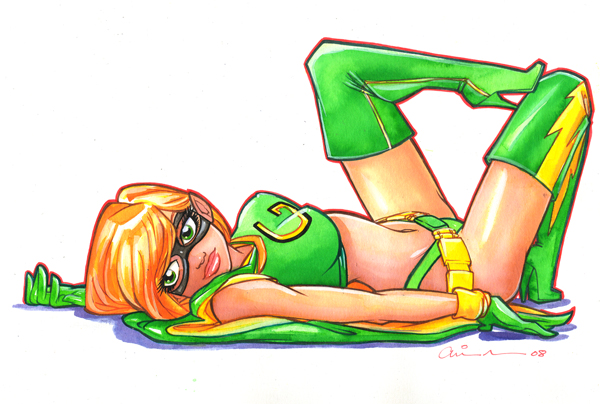 To see more of Arie's work be sure to check out her Deviantart page. There's some absolutely fantastic stuff there.
Other links :
Posted: January 18th, 2009 under art, comic, Featured Artist.

8 Responses to "Pillow Fight by Arie Munroe"