Char Kway Teow
The first question you're thinking probably is "What is Char Kway Teow?". It is a Malaysian dish of fried flat rice noodles. There are many variations of ingredients that can be added. However, cockles, eggs, prawns, bean sprouts, chives and chilli are usually added whilst frying. Originally a fisherman's dish to finish any unsold cockles for the day, it has become part of the Malaysian food psyche.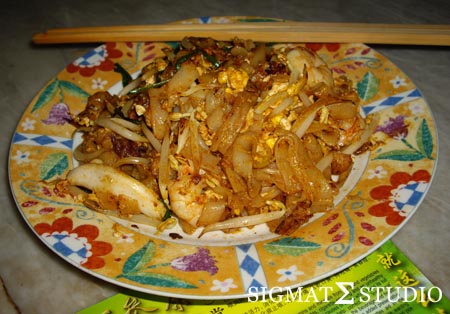 A question that was raised to me quite often is "What makes a good plate of Char Kway Teow?". After giving it some thought, I have listed the top four criteria for Char Kway Teow.
(01) Pork Fat
It has to be cooked in pork fat and contain bits of deep fried pork crackle. This makes the dish less healthy but swapping it with other alternatives (e.g. vegetable oil) ends up tasting sub-standard.
(02) Charcoal Fire
Although most vendors cook with gas, the truly divine plates of char kway teow are cooked over a charcoal stove. I'm not too sure of why, perhaps the charcoal adds additional flavour or maybe it provides more heat than gas. Anyway the difference in taste is very noticeable.
Fantastic charcoal fire cooking to perfection.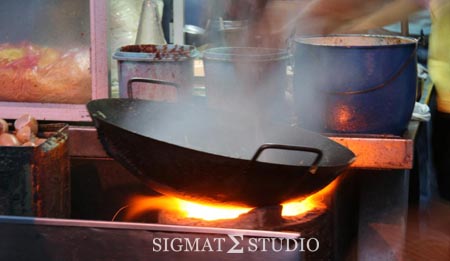 Picture of a very famous Penang hawker. He's one of the last few cooking with the traditional charcoal method.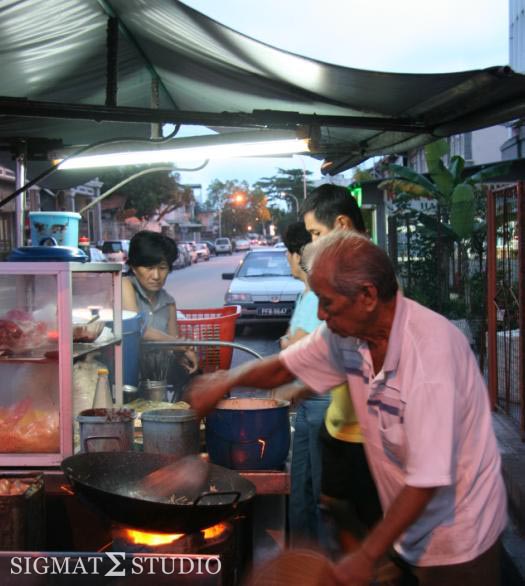 (03) One at a time
Some vendors will cook multiple plates at once. Overcooking will lead to bad "batches" with soggy kway teow or inconsistency of ingredients. The key is to keep it simple; perfect one plate and repeat. One at a time and repeat.
(04) Garlic
Garlic is essential. It adds to the taste and more importantly to the aroma. A nice fragrant aroma makes the experience all the more enjoyable.
Posted: January 16th, 2009 under Food, Photography.

6 Responses to "Char Kway Teow"