Dejah by Gregory Woronchak
Gregory Woronchak is freelance artist who's worked on storyboards for a few TV series as well as on a computer game (Prince of Persia : The 2 Thrones). He's got a resume of some amazing sequential work and pin-up work and took the time out to answer some questions for this site.
Where are you from?
I'm from St Hubert, Canada. I've lived in Canada my entire life, but have many American friends and aquaintances. I'm blessed with a beautiful wife and two sweet girls, and own too many comic books.
Haha . . you should see my collection. Although I'm moving away from the 32 page monthly to trade paperbacks. That way I get the whole story without missing an issue. How long have you been drawing?
I've been drawing all my life, but became a full-time freelancer about 8 years ago.

How would you define your art style?
My default style tends to be 'old school' superhero comics, with an emphasis on storytelling and acting, rather than adding lots of unnecessary details.
Any influences? Favourite artists?
George Perez is probaly a major subliminal influence, since his New Teen Titans were one of the first comics I actively collected; I also love the style of early Keith Giffen and Trevor Von Eeden, and am a huge fan of Jack Kirby, John Byrne, Neal Adams, and Joe Kubert. I have tremendous respect for these classic guys, their skills and work ethic define 'professional'.
Big fan of everyone you named, especially Joe Kubert. Anyway your Dejah piece is incredible! How did you create it?
It's acrylic on illustration board. I've included the preliminary underlying drawing, on top of which I painted. My goal was to create a dramatic scene with focus on Dejah, and a nice flow to the composition. Anytime I undertake an illustration, I try to figure out which 'camera angle', lighting, and or/pose will create artwork which tells a story.
DEJAH – Preliminary Sketch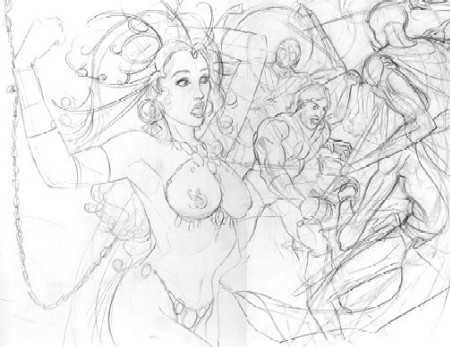 DEJAH – Final Acrylic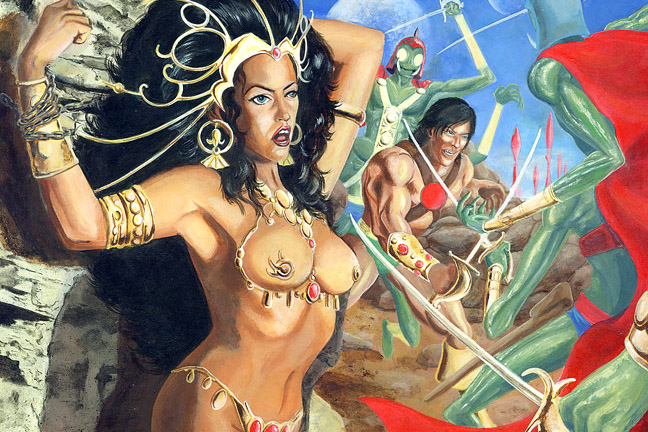 The preliminary sketch really has a nice sense of movement with a dynamic quality to it. The final colours brings the whole piece to life.
For more information about Greg check out the below links :
Posted: November 28th, 2008 under art, comic, Featured Artist.

4 Responses to "Dejah by Gregory Woronchak"