PLB Comics Presents 01
PLB Comics Presents is anthology of various works from different comic artists showcasing their works. I had the opportunity to talk to one of the creators behind the series Josh Shockley to ask him how it all started.

Cover for Issue 01 :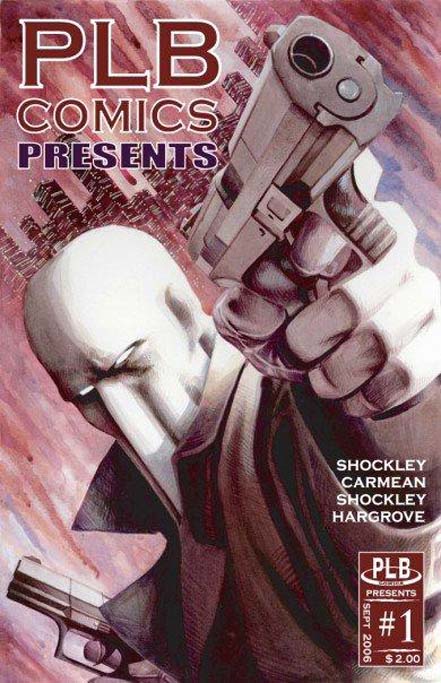 Page 8 (Black and White) :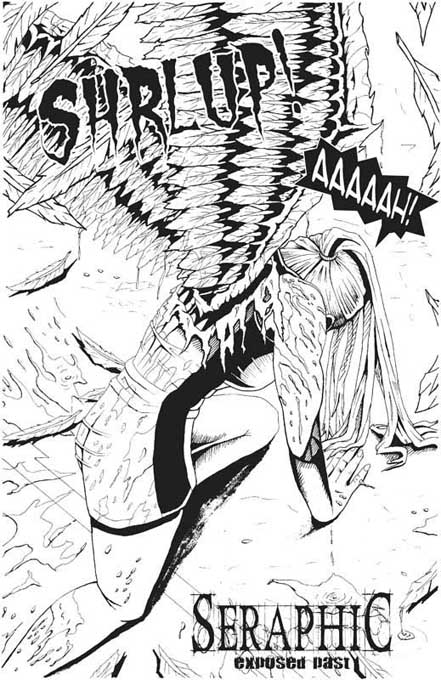 Page 8 (Colour) :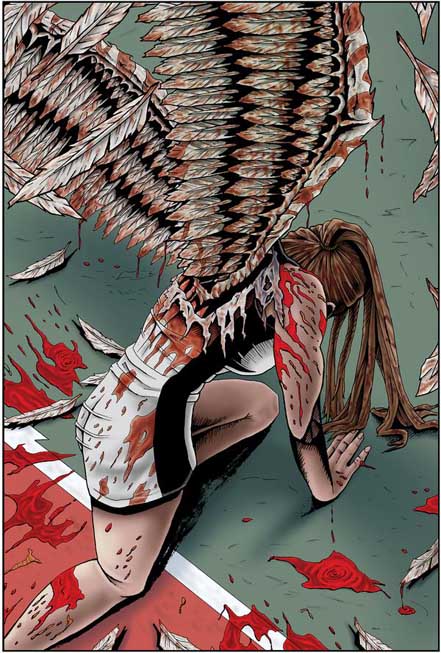 So how did it all start?
PLB Comics "started" I guess when I was about 7, I was a little kid and I started drawing my own little comics. When my younger brother turned about 5 years old he got into it to. We spent the majority of our youth drawing comics on mom's kitchen table.
But when we really got serious was about 3 ½ years ago. I'd graduated from college and had turned 25 and was about to get married, y'know the whole grownup thing. Then it occurred to me that If we were gonna try and make a run of it with the comic book thing that now was the time. Me and my brother Mat Shockley had a 8 page story that we'd previously submitted to a contest that we'd decided that we wanted to print, as well as some other ideas. Our buddy Mike Carmean that we went to high school with had a story he wanted to do, so we figured the best thing to do was to put together a "Marvel Comics Presents" type book, with different ongoing stories.
It's an interesting format with some great stories! So what happened when the first issue was released?

After the first issue was printed we started hitting up the cons, we appeared in a few local art shows and started getting some feedback. We've been pretty fortunate in the local support that people have given us. Since then, we've just been keeping busy, trying to keep the pace going, the second issue came out last fall and the third issue will come out this fall.
How was the process of getting everyone together onboard for the project?
Organizing the people involved wasn't difficult, Me and Mat go way back with Mike, and Karlton (one of the writers of Gideon and Sebastion) we went to college with. We recently welcomed another college buddy Jason Shipp into the PLB Family. Jason is writing and drawing his own Magna epic creation entitled "OCEANTO". It's fantasy/pirates/ninja/sweeping adventure type of book, and it's set to debut this Fall, same time as PLB COMICS PRESENTS # 3. We'll have em both for the Baltimore Comic Con this year.

Awesome! It looks like PLB is slowly branching out. With different people, was it hard organising the roles each of you had to play?
All the heavy decisions are made by Me, Mat and Mike, we like to keep things as informal and laid back as possible. They both say I'm the president or whatever of the group, but it's really not that official. Mike handles the money/business side of things. Mat keeps his nose to the grindstone drawing, pretty much all the time. I 'm just happy in general to work with such talented people. The guys really are some of the best talent out there in indie books today, I want our company to take off because they really deserve it to work, and if it does I know there gonna bust their asses to put out the best damn books possible.
I'm also interesting in the more technical aspects. Was it difficult to get your head around the printing process?
Printing is tricky, used a different printing company for the first two issues, and I think were going to use another different one for issue 3 and Oceanto. Printing is so tricky, it's definitely a learning process, our first print run of issue 1 was thru a company in texas and they did a good job, but it was a minum order of 1,000 copies, which has left us with a ton of books still. We got issue 2 printed in Canada because it was so incredibly cheap, that is until they tacked on the "through the roof" shipping costs, plus they were 2 weeks late shipping them to us, apparently the original shipment got lost and they had to do another print run. But anyway we've found a pretty decent company out of Jersey that were gonna do issue 3 with.
So what's the plan for PLB in the future?
In October were going to be going back to our favorite con- the Baltimore Comic Con http://www.comicon.com/baltimore/ on Oct. 10th and 11th where we will be debuting PLB COMICS Presents # 3, and Oceanto # 1. Both books will have varients covers- one of the variant covers for PLB #3 is an "Illusions" exclusive, and we be available ONLY at Illusions Games and Comics in Sailsbury.
Then in late November/ Early December were realeasing Seraphic # Zero. Seraphic zero will contain the first 3 parts of the Seraphic storyline that are featured in PLB COMICS PRESENTS as well as the additional 4th part of the chapter, and it will be in full color. Mike is very excited about putting out this book, as it was originally intended to be seen, in full blazing color. After issue zero, Seraphic will continue in it's own title with the first issue coming out sometime the following year. Were all very excited, hopefully at some point in time we'll be able to make some real money off these books, but for right now were just plugging away. There are so many talented indie guys and gals out there in the same boat as us, there's a real sense of comradey amongst the independent comic book scene, these are the guys that truly love what t hey do, even if it means they go broke over it. I'd strongly suggest anyone interested in good reads, check out our friends on our myspace account and the adds in our books, there are so many alternative's out there for those who don't want to read Marvel or DC. It's important to me and the rest of the PLB boys, to get the story out there, that's the most important thing.
Thank you so much for your all time and your words. I wish you all the best in your endeavours and stealing a line from one of the Big 2, "Make mine PLB!".
For copies of PLB Comics Presents check out :
http://www.plbcomics.com/store
It can also be purchased locally thru :
Illusions Games and Comics
726 S. Salisbury, Blvd. Salisbury,
MD 21801
Phone: 410-742-0172
Other links :
Posted: August 5th, 2009 under art, comic, Featured Artist.
Tags: artist, comic, plb presents
3 Responses to "PLB Comics Presents 01"