Free Comic Book Day
Love Free Comic Book Day! I've seen Cookie Monster taking care of a cookie shop but today I saw Elmo catching up with the latest in comic news! Looks like he's excited with the new direction that Spider-man may be taking.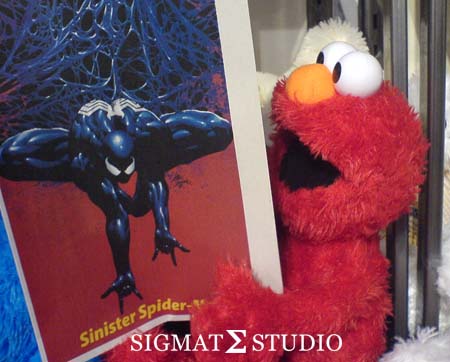 With a sale on at my local comic place, I picked up (in addition to the free comics) :
True Story Swear to God : This one goes to 11 by Tom Boland
Ultimate Spider-man Volume 1 by Brian Michael Bendis
Ultimate Spider-man Volume 2 by Brian Michael Bendis
Wolverine : Enemy of the State by Mark Millar

Can't wait to get started on reading all the new comics! So much to read and so little time. Hope everyone enjoyed their Free Comic Day. Feel free to leave comments on your new additions to your collection!
Posted: May 3rd, 2009 under comic, Website.
Tags: comic, elmo, FCBD, free comic book day, seaseme street, spider-man, ultimate spider-man
7 Responses to "Free Comic Book Day"