Word Smith 3 – Kickstarter Finished!
I know this post is a little late but a HUGE thank you to everyone who supported the
Word Smith 3 Kickstarter
! This has my biggest campaign ever with over
500+
backers (542 backers) and coming so close to
AU$20K
raised (AU$19,862). I'm so excited to be able to bring the next chapter of Victoria's story and I can't wait for you guys to read it. I'll provide updates as production progresses but all the artwork is done except for the drawn in pages. Thanks once again for backing Word Smith!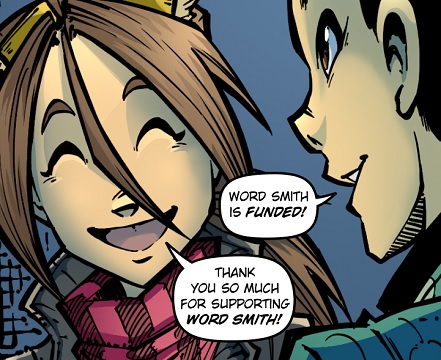 Posted: March 2nd, 2021 under art, comic, Featured Artist, Website, Word Smith, Writer.
Tags: 5 Seconds, Blue, Ellie, Jake, Keenan, Mia, Most Wanted, Rivka, Road so far, Shaun Paulet, Sparky, Tabby, Tabby Sketchbook, Terralympus, Transhuman, Word Smith, XCT