Avatar the Last Airbender by Don Welch Jnr
LA born Don Welch Jnr (or DJ) is showcasing an amazing Avatar – The Last Airbender piece based on the cartoon from Nickelodeon. (I'll remember that cartoon fondly and am refusing to watch the butchered live action movie which was destroyed by M. Night Shyamalan. The reviews of the film have been rather brutal!) The composition and colouring of this piece is superb!
Avatar – Airbender Showcase :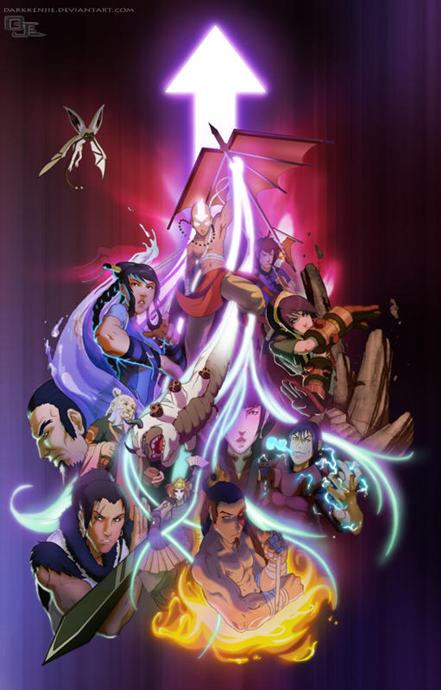 Thanks for the allowing me to showcase an amazing piece. Was art always what you wanted to get into?
Most of my life, I was thinking I was going to be an engineer, so I had focused on math until my mom talked me into going to art school. For the last four years I have been living in San Francisco and attending Academy of Art University and I love it here. I have only been drawing for a short time compared to most professional artists, and a lot of people say I would have been great if I would have started younger. I think, though, that starting to learn to draw in art school was more beneficial for me, because I didn't have a style or any '"bad habits" to break. I just soaked up everything like a sponge from all the awesome professionals I met.
What type of art do you like?

I like art that shows a good understanding of mood, composition and anatomy. I dislike modernism, and the popularity of anime for giving a lot of people bad habits with eyes and anatomy. For fun, I like to work out, do martial arts. A lot of people like the start of drawing the best, but I really like the last 20 percent of the drawing.
This usually stumps most people but how would you describe your artwork?
My artwork? Well, a lot of people describe my work as 'epic' — I don't know about that, but I think it shows power, force and emotion combined with dynamic poses/angles.
Who would you rate as your biggest influence?
I have a lot of influences, but I guess my biggest influence is Hayao Miyazaki.
Where can we see more of your work? Any final words for aspiring artist?
I have several published works in art books and calendars, and I was an intern at Cartoon Network for a while. Also, you might see me working with some bigger companies soon. I do think anyone can be a great artist it really is just drawing everyday. Just keep at it!
Would you take me through the process to create the showcase Avatar piece?
When I draw, I start off by drawing a thumbnail. In the thumbnail, I place all the figures and objects, working out the composition until I like it. Compositions don't usually turn out as well if you go straight into a full-sized drawing.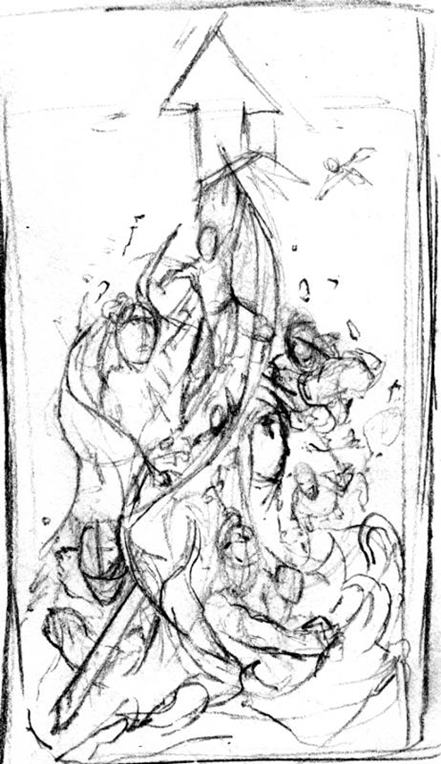 Then, I scan the thumbnail and enlarge it. I trace the basic elements of the thumbnail on to paper by putting the paper directly on my computer screen.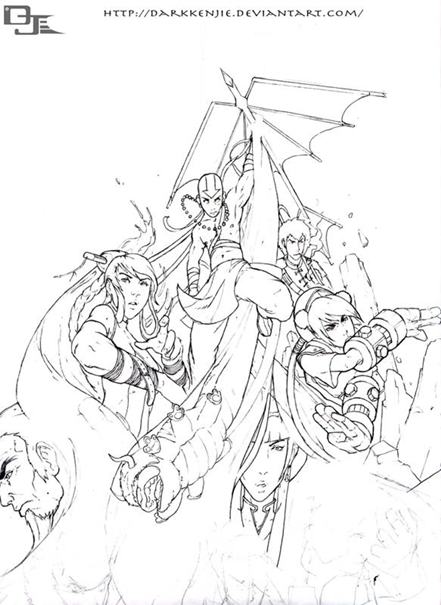 After that, I work out problems with anatomy and shapes finishing up the line drawing. Then, I scan it again, and retrace with clean lines on the computer for coloring.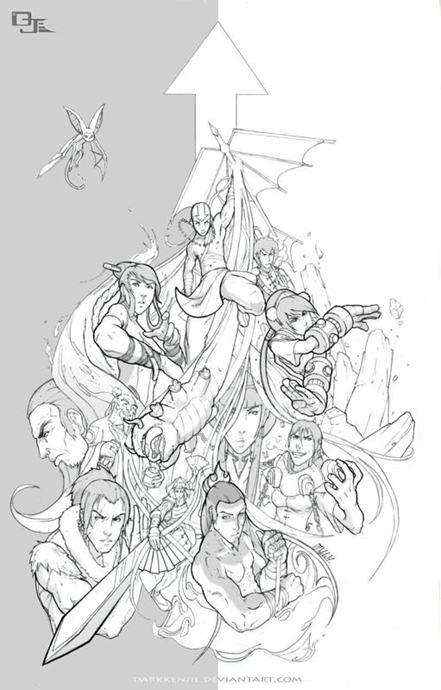 Finally, I color it. I use Photoshop to color my drawings. When I'm choosing my colors, I think about complementary colors and analogous colors to make things pop out, like hiding a little blue in the shadows when red light is hitting them. I prefer to choose highly saturated colors in my artwork. I always work in at least 300 dpi, which is important for print quality, and I work with anywhere from 70 to 150 layers – that is a lot of layers, but I use a lot of layer effects in my coloring style.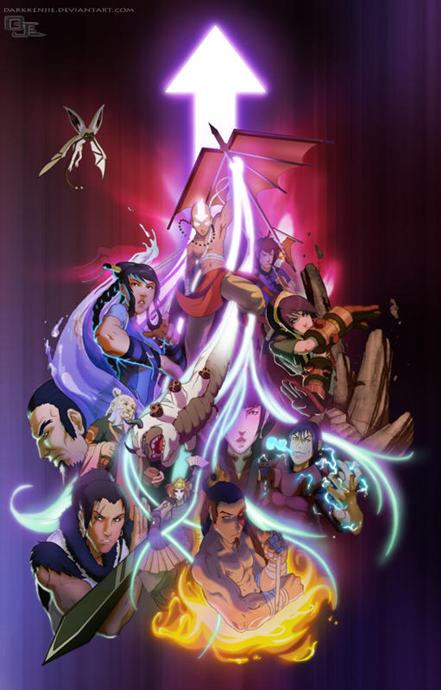 Thanks for your time!
Wish you all the best in your future projects.
For more of his work check out his website :
http://darkkenjie.deviantart.com/
Or email him at Dark_kenjie [at] yahoo.com
DJ will be appearing in the following conventions :
Comic Con July 21 – 25 in SAN DIEGO at San Diego Convention Center
Sac Anime Sept 3-5 in Sacramento at Radisson Hotel
Long beach Comic Con Oct 29-31 in LA at Long Beach Convention Center
Posted: July 23rd, 2010 under art, comic, Featured Artist.
Tags: Aang, Avatar, Collage, Iroh, Kiss, Last Airbender, M, M. Night Shyamalan, night, Sokka, Zuko
2 Responses to "Avatar the Last Airbender by Don Welch Jnr"