Vampirella by Kirk Lindo – Competition Winner
The Kirk Lindo competition has ended with the winner decided by the artist. Thanks for all those who entered and Kirk for providing the prizes.
Winning Print (selected) :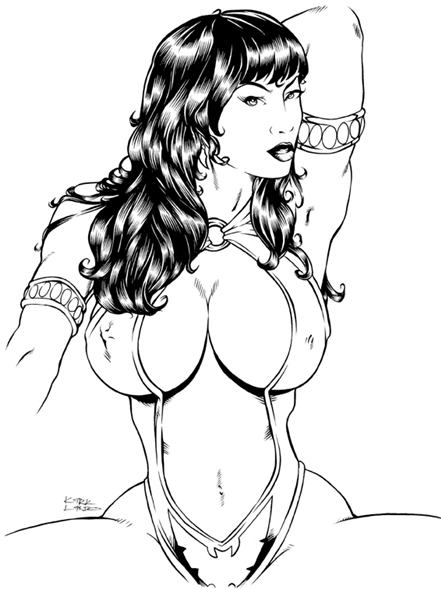 Kirk was kind enough to leave a message for all the participants.
First of all I wish to thank you and your incredibly generous readers for their kind words about my art. Most artists toil in solitude in their studios so opportunities like this to have others view and comment on the work we do is a great treat. This contest of yours is a great idea and I hope you continue it for as long as we artists will participate.
Choosing a winner was much harder than I thought. I ended up deciding to choose the post that made me smile the most. Also it just didn't sit well with me to not give at least something to each participant. So to the grand prize winner goes all that was promised. But I also wish to give a little something to all those who participated. With that said here are my winners and prizes.
All Participants :
You have won a free digital download of any of my books from http://comics.drivethrustuff.com/index.php?manufacturers_id=366.
2nd Prize – Mark Rhodes
Though not an actual comment on a print, it made me literally laugh out loud. Congratulations! Mark you can pick which of my sketch books 1, 2 or 3 you want.
Grand Prize – Jack D. Graham (Vampirella)
Thank you jack, for such a thoughtful and dead on comment on my art. Your insight and appreciation for the art I create is greatly appreciated. I don't know if you write professionally but you should consider it. You could possible start a successful blog showcasing art that you like. I would certainly be a reader of it.
Comments for all the particpants!
David (Crimson Dusk)
That is one of my favorites as well. I have been a fan of Georges work since I was a teen ager. I once ended up in George Perez's living room one day by accident but that's a whole other story.
Kirk Basone (Vampirella Sitting)
Kirk is an old friend and fan from way back. He is much kinder to me than I deserve. When you get a chance I would love to see a snap shot of your lovely sister-in-law.
Steve Zink (Powergirl Supergirl)
Steve and I also go way back and he is a fantastic supporter of my work. I've done a few combinations of superheroines and I enjoy them greatly. I plan to do a few more.
Dan (Catwoman)
I absolutely agree! And that is a perfect description of Catwoman.
Dan (Catwoman Sexy tail)
Thanks Dan. I love your comment about that image and share your feeling on it!
Drumczar Alan (Soujorn)
Thanks Alan. That image is one that I am extremely proud of. Many time I look back at a drawing and see thing I would do differently. That one however is an image that I think needs nothing added or taken away.
Tim (Poizon Ivy)
Hey Tim. The lucky owner of my all time best image ever of Ivy. And hopefully my next best image of Ivy on the way! ;-)
Matt (Dark Phoenix)
One of the things I love the most about Jean/Phoenix is are the many looks I can give her, from retro to evil!
Farmer's Wife (Tigra)
What a fantastic compliment that an image I made caused you to discover a new comic character to enjoy.
Brent Albert (Batgirl Tat)
One I enjoyed drawing quite a bit. The tease is often more fun than the payoff!
CS (Baroness)
I just love the curves on that one as well!
Sean Harrington (Widow Don't Move)
Hey Sean! Thanks a bunch. I LOVE YOUR COMIC!!!!! Keep up the GREAT work!
LK77 (Sojourn)
The next one I do will absolutely have the bow!
All relevant details have been emailed to the respective parties. Thanks again for your entries and look forward to running more competitions.
Posted: May 14th, 2010 under art, comic, Featured Artist.
Tags: bbw, bbww, kirk lido, sexy, vampirella
3 Responses to "Vampirella by Kirk Lindo – Competition Winner"