Wonder Woman by Jamie Tyndall
Back in September I showcased Bayonetta by Jame Tyndall for a Wizard competition. Jamie also did this incredible Rolling Stone with Wonder Woman as a feature. I don't think why the song "Papa was a rolling stone" popped in my head but it's not leaving. Arrgh!
Final Cover :

Sketch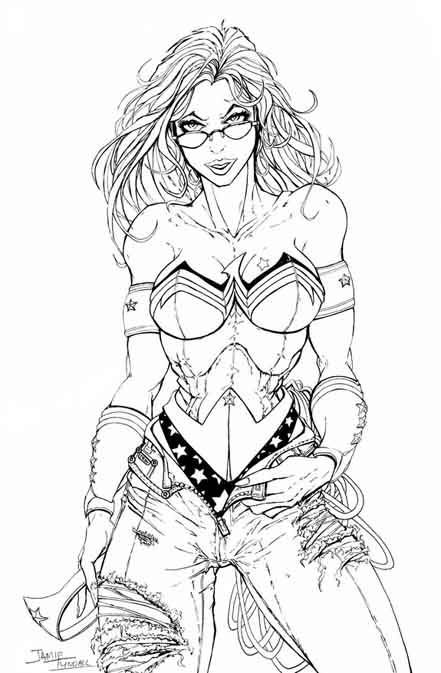 So where are you from? How did you get into comics?

I'm a 70's kid from Brantford, ON. I grew up on GIJOE and Star Wars. A cousin of mine got me hooked on comic book, mainly X-Men, as a teenager and I started drawing comics at around the same time. I guess I just never stopped!
How would you describe your artwork?

I enjoy the art of 1990's to early 2000 comic books. I think it reflects in my work. One word to describe my art: detail. I love details in the characters and backgrounds. Since I also ink and colour my work, my love of details often comes back to bite me.
Did you pursue any specific path to follow your artwork?

I went to both UofT (University of Toronto) and Sheridan College in a co-studies program in Arts, Arts History. I did do some studio art while in school. As far as comic book art, I learned by referencing artists I enjoy and going to comic-con to meet artists and ask questions. I learned a lot at comic cons from Joel Gomez, Beth Sotelo and Alex Sinclair. They have been generous with their time and I thank them for that.

Who do you rate as your artistic influences?

I am inspired by the art of Jim Lee, J. Scott Campbell, Marc Silvestri and the late Michael Turner. For colours, I reference Peter S., Alex Sinclair and Beth Sotelo. If anyone references any of these artist in relation to my artwork, they'll make my day.
Thanks for your time!
As well as letting me showcase your work. Keep watching this space as I will be getting more of Jamie's work up.
For more artwork :
http://jamietyndall.deviantart.com
For prints :
http://www.jamietyndall.com/collection/
Posted: October 19th, 2009 under art, comic, Featured Artist.
Tags: artist, bbww, graphic novel art, jamie tyndall, rolling stones, Wonder Woman, ww
8 Responses to "Wonder Woman by Jamie Tyndall"