Gambit (Female) by Kirk Lindo
As a follow up to the Mary Jane commission showcase by Kirk Lindo, he has sent through some additional sketches as well some time to get an interview of his works. Firstly Kirk's reimaging of some classic Marvel characters.
Female Gambit :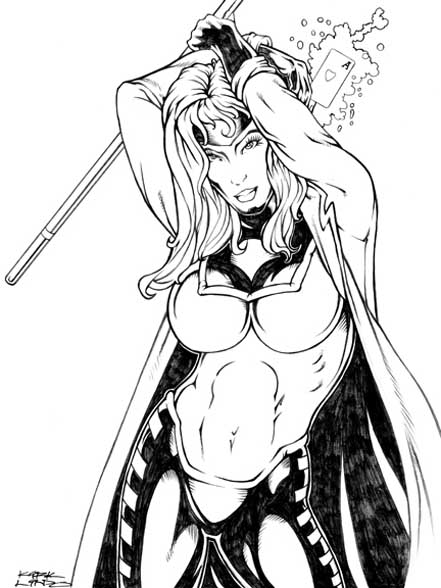 Female Captain America :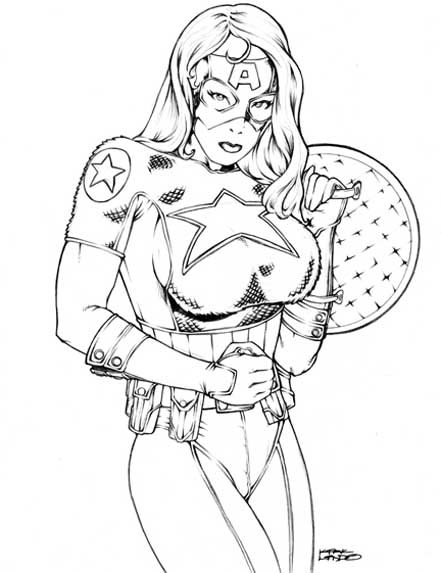 Female Cyclops :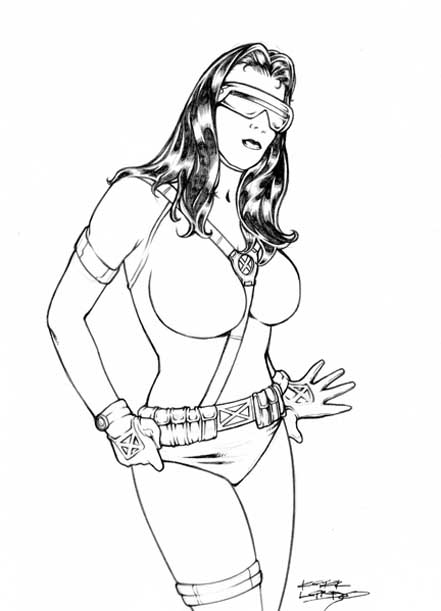 So Kirk . . where are you from?
New York. I grew up on Long Island, went to college in Manhattan at the School of Visual Arts.
My sequential art instructor was Will Eisner. Being in Will's class was an awesome experience for a young artist in New York. Will was a legend in the industry so our class would get free comics sent to us from all the major publishers. We also had regular visitors to the class like Frank Miller and Chris Claremont.
Will, would also let us watch movies in class. He was an amazing instructor. Will would do stuff like look at the entire first three pages that you would hand in and tell you that your taking too much time to tell the story and would turn your 3 pages of information into one panel.
That's absolutely amazing. Meeting some of the greats like Frank Miller but being taught by Will Eisner himself would have been awesome! Was there any specific advice that Will gave you?
The advice Will gave me was they same he gave everyone. Be a good story teller. Tell a good story. He was always more concerned about us being good at our story telling more so than our drawing.
I plan to do more of this once I clear my board of all my outside commitments.
What was your "break" into this field?
I answered an ad in a newspaper for comic artists! Something that you NEVER see. At the time I was working as a Marketing Director for a large company so I showed up for the interview after work in a suit and tie. The owners looked at my portfolio and hired me on the spot, but not as an artist but their Editor In Chief. That was back in the early 90's with personality comics. I worked with them for about 3 years until I went out on my own and started Brainstorm Comics and began publishing Vamperotica.
Would you consider this a difficult profession?
There's no easy way to make a living as a comic artist & creator. You have to have a passion for it beyond what anyone outside of the business could understand. I'd have to say that getting my foot in the door was relatively easy. It's not like I sent out samples to 100 different publishers. But everything after that first little break was 10 times harder than I expected. The very first thing I realized after I started working in the business is I wasn't as good an artist as I thought I was. So I began really working hard to improve my art. Some of my early art is pretty bad compared to what I did later on.
A lot of people I have talked to always hated their earlier work. I guess over time you improve. At this time what would you consider your proudest art related accomplishment?
The creation of Luxura and the publishing of 50 issues of my original Vamperotica comic. There's only a handful of self publishers who can say that they published fifty issues of their comic.
Is there any other artists you like?
Wow there's a bunch! Gil Elvgren, George Petty, Drew Struzan. Alphonse Mucha, Adam Hughes, Bryan Hitch to name just a few.
For any upcoming artists . . any advice?
Self publish your work, Even if it's just a sketch book. Go through the process of collecting your work, choosing the best ones and putting it all together in a published form. The other advice I'd give is start doing Graphic Novels. Begin to embrace the idea of authorship, of being an author.
Thanks for your time and your words!
Can't wait to see more of your works.
For more Kirk Lindo :
Posted: June 16th, 2009 under art, comic, Featured Artist.
Tags: artist, captain america, cyclops, gambit, kirk lindo, sexy, sketch
7 Responses to "Gambit (Female) by Kirk Lindo"