Wonderwoman by Troy Parke
Troy is an illustrator from the greater Seattle area (although he doesn't drink espresso) who's a self confessed Hello Kitty fan. With a fluid style his sketch work is one of the best I've seen with a very nice sense of movement.
Besides Hello Kitty what do you do for fun?

I am a judo player going on two decades now and like to snowboard, draw, play with legos and (re)read comic books. My family is a big part of my life, so I am always blending time with them into my fun pursuits.

How would you describe your artwork?
Ugh – that's a hard one for any artist.
I know it's a tough question but it's always nice to hear it from the artist's point of view.
The host of Dr. Sketchy's described my style as "every line means something… each line is vital with nothing extra added." Other folks have called my approach "line art" or "sexy lines". I can't argue with that last one . . . its what I am trying to do.
Are you self-taught? Training?
I have always drawn, but I did not take formal art/design classes until college. I use how-to books, web tutorials, life drawing classes and ask other artists for suggestions and pointers. My philosophy is you can learn from everyone, even if it's what NOT to do.
Artistic influences?
A look around my studio walls has work by: Patrick Nagel, Take Hama, Adam Hughes, Trent Parke, David Mack, Matt Tamaru, eboy, Travis Charest, Dan DeCarlo, tokidoki, Michael Schwab, Alphons Mucha, Shane Glines, Phil Noto and my daughter.
Thanks for your time and wish you all the best in your future endeavours.
For his artwork sample, Troy provided two Wonderwoman sketches for approval.
Sketch 1 :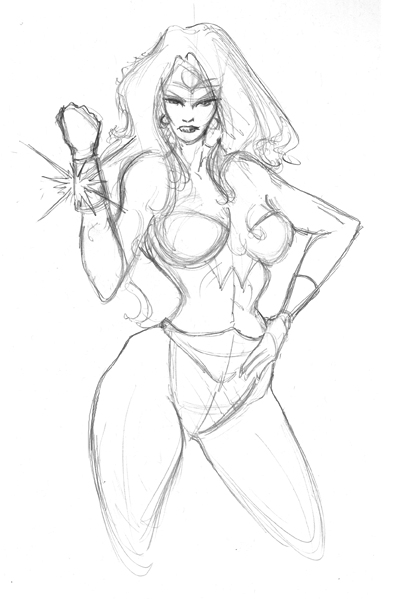 Sketch 2 :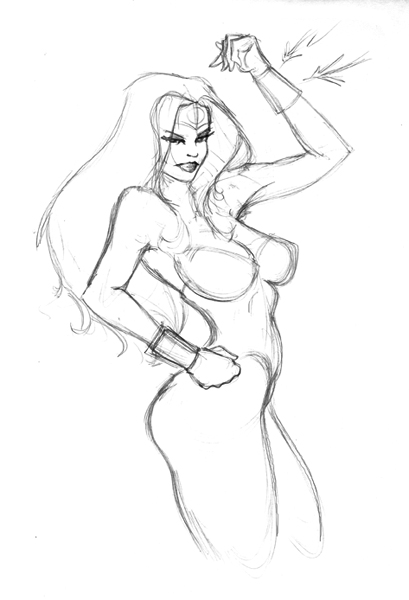 I much preferred Sketch 1 as it gave the character a better presence, like she was staring you down. Troy also mentioned "I can finish either one with an inking style that is more quick and loose (Dr. Sketchy's) or more polished and slick." I requested a Dr Sketchy's still and the below is the finished result.
Final :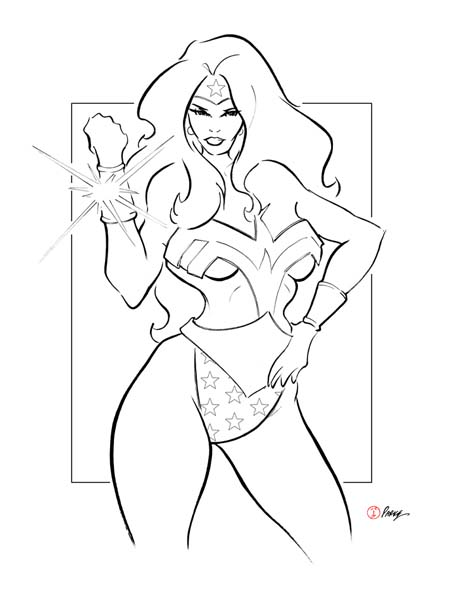 For more information on Troy check his website :
http://www.tparke.com/
or email him at troyparke [at] gmail.com
To meet Troy in person :
March 7 & 8
Sports Cards / Collectibles Show at the Tacoma, WA Days Inn
He will be donating sketchcards for the March of Dimes
April 4 & 5
Emerald City Comicon
http://www.emeraldcitycomicon.com/
Posted: February 2nd, 2009 under art, comic, Featured Artist.
Tags: bbww, troy parke, Wonder Woman, ww
8 Responses to "Wonderwoman by Troy Parke"