Psylocke by Eduardo Vieira
Eduardo Vieira is a Brazilian illustrator who has a fantastic style. I've been in contact with him for a while and commissioned him to do a piece of artwork for me. I didn't give much of a brief for this work and simply stated that I wanted Psylocke in a dynamic pose. Three sketches were sent through for my thoughts.
Preliminary Sketch 1 :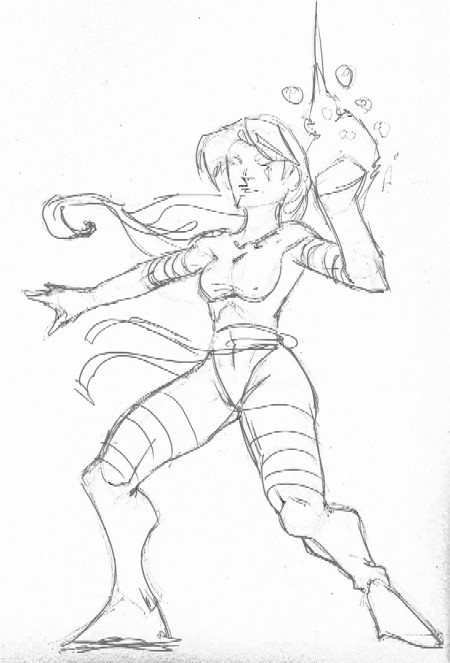 Preliminary Sketch 2 :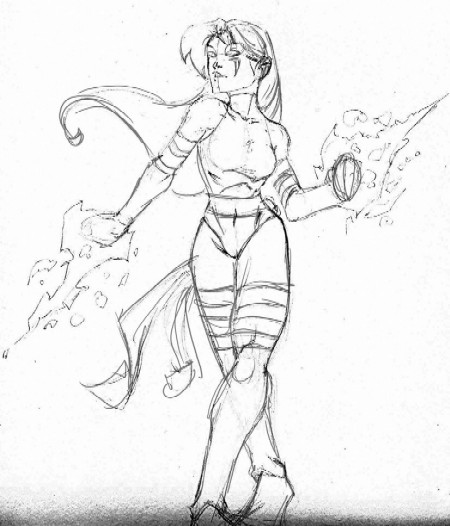 Preliminary Sketch 3 :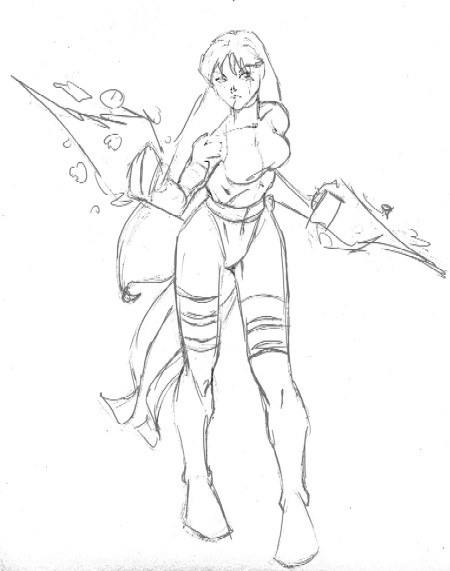 I liked Preliminary Sketch 3 however it looked like she was just standing there. I requested Eduardo to make it as if the character was running towards you, otherwise it was perfect. Whilst he was working on the final piece, he also took the time to answer a couple of my questions. (The completed picture is at the end of this post.)
I'll probably start by asking what you consider most important in life.
I'm 28 and I consider myself a very lucky guy, since I have almost everything I want and need. Great parents, friends I can trust, a lovely girlfriend and a huge collection of mechanical pencils! With the mechanical pencils being the most important . . no, just kidding on that.
Haha . . very funny. The correct answer should always be your girlfriend, especially if she's reading this. So what are you up to now?
Now I'm trying to get fulfilled in a professional way, "going the distance" with my art. I'm actually selling my work on ebay as well as working with for advertising companies here in Brazil, finishing a comic book series and doing some product design for an Electronic Company.
Wow . . you certainly have a lot on your plate at the moment. What do you do to relax?
I love movies, soccer, poker, going out with my friends and girlfriend and cooking! Yes, I love cooking! Especially pasta (along with bread and pizza) and desserts (anything chocolate!). It's almost like a secret second life. I also want to open a pasta restaurant one day . . . pretty weird, isn't it?
Not at all! Cooking is a very creative pursuit. When did you start drawing?
I started drawing as a kid like almost everybody but only four years ago I decided to take drawing professionally. After school I entered a publicity and advertising university wishing to learn a bit of Photoshop or sketching inside it but I quickly saw that I really didn't want to be there. As soon as I found a Visual Arts graduation in another University, I left the previous one to enter in the arts course. I graduated in the beginning of this year.
What got you from a Visual Arts course to comics?
Just as I said before I decided to work with drawing in a very serious way for about four years. When I was in university, a friend that was working to one of the major US comic book publishers. So I thought, "Why this guy can do it and I don't?!? What the hell, I'll do it too!".
I fell and stood up again countless times in the beginning, and I think that's one of the things that keep people away from a good professional level, you have to be prepared to get over it if you want to improve. Man, I really don't know how many times I thought "this is not for me. I'll never be a professional".
My drawing way is simple and direct. Have a picture of that great artist you want to be like?  Copy it till your hands bleed. After this, just get another picture and copy it too. do it everyday till you know how to do it without looking and you have a start. Seriously, I had dozens of little sketchbooks where I copied lots of artists, till I got to know how to do it alone. My university provided a foundation but my greatest improvement was outside of it.
I wish you all the best. I'm sure if you keep at it, you'll be able to succeed! And finally . . who's art style do you like?
There's a lot of artists but I'll leave you with just a few names . . . Humberto Ramos, Chris Bachalo, Lois Van Baarle, CRMK from Capcom, Ryan Ottley and Robin Mitchell.
I received the final coloured work very recently. It's got a more dynamic feeling than the original sketch and the colours are vibrant. The scan really does not do justice to the final piece as it looks better in real life.
Find out more about Eduardo from his :
Final Coloured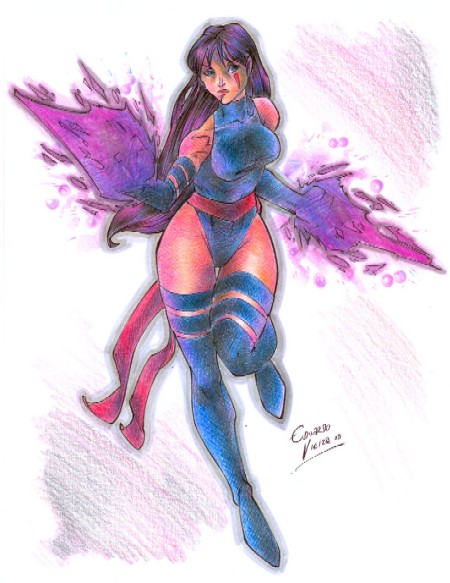 Posted: December 5th, 2008 under art, comic, Featured Artist.

One Response to "Psylocke by Eduardo Vieira"