DC's Trinity by Luis XIII
Luis XIII is part of a Brazilian group of illustrators. He's very professional and was very quick to provide the preliminaries and the final drawings. Unfortunately the below scan doesn't do the final product any justice (pun intended) as a lot of the pencilling detail is lost.
This is a very different feel to Spidey by GW Fisher. There's less movement in this piece compared to the the GW commission but it's still incredible. Unfortunately I couldn't get it inked at the time . . . something to look into in the future!
Check out more of his work at http://www.skrashdrawings.com
Background :
Generic Background
Characters :
Batman (left) / Wonder Woman (middle) / Superman (right)
Description :
Action picture of the 3. Very strong pose.
Update 19-Sep-08:
Found the original Preliminary Sketch! Post updated.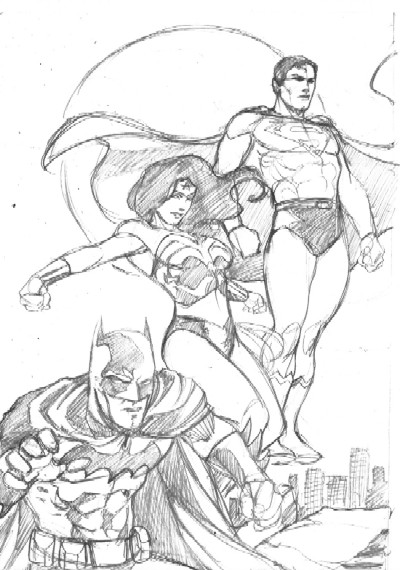 Posted: August 4th, 2008 under art, comic, Featured Artist.
Tags: batman, bbww, luis, superman, Wonder Woman, ww
2 Responses to "DC's Trinity by Luis XIII"