Fractured Shards – Cyberpunk – Dan Feuerriegel
Link to the Kickstarter Prelaunch:
https://www.kickstarter.com/projects/2067957354/fractured-shards
I have been given the amazing opportunity from the publisher Comics2Movies to work with Spartacus actor,
Dan Feuerriegel
on the cyberpunk graphic novel
Fractured Shards
. It's an interesting premise, where certain moments in time can "fracture" and open up quantum realties. Detective Sebastian Vetro can peer into these fractures to help bring justice to victims of horrific crimes. I enjoyed merging sci-fi theories into an engaging story with some fascinating characters!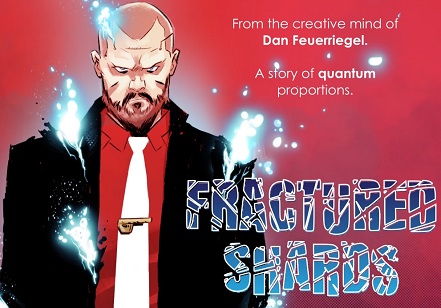 Please click on the
Prelaunch Link
and press the
NOTIFY
button so you will know as soon the Kickstarter goes
LIVE
. Comics2Movies is aiming to launch this campaign mid December.
Posted: November 11th, 2020 under art, comic, Featured Artist, Fractured Shards, Website, Writer.
Tags: 5 Seconds, Blue, Cyberpunk, Ellie, Fractured Shards, Jake, Keenan, Mia, Most Wanted, Rivka, Road so far, Shaun Paulet, Sparky, Tabby, Tabby Sketchbook, Terralympus, Transhuman, Word Smith, XCT