Untamed by Sebastian Jones
"Seven Days for Seven Souls"
I was provided a preview copy of Untamed that's currently crowd-sourcing on Kickstarter for review and it was a delight to read! Make sure you check out the Kickstarter link and get your pledge in.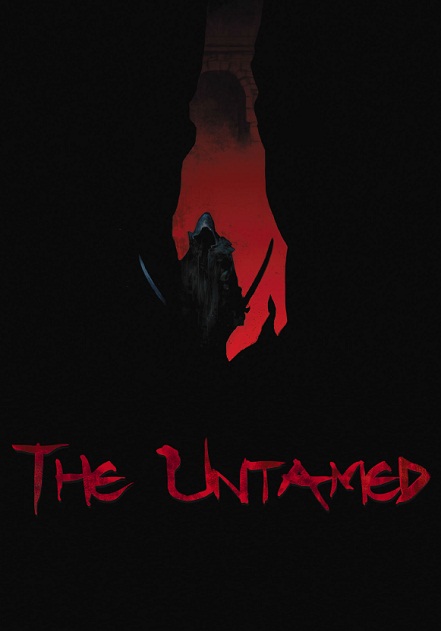 The story was well structured and feels much more live a movie than a graphic novel with each chapter building up to the conclusion. (Don't worry there's no spoilers!) The premise of the story is a Stranger's return from the dead to claim 7 specific souls as part of his deal for vengeance.
There is thematic similarity to Kill Bill (where the Bride has a kill list) but that's where the similarity ends. Fusing a well developed world (Asunda) infused with different characters creates a richness to the story.
The artwork carry the story to a different levels. There are amazing action sequences showing incredible movement. (On a personal note, I love it when a writer trusts an artist to tell the story without overuse of narration or dialogue!)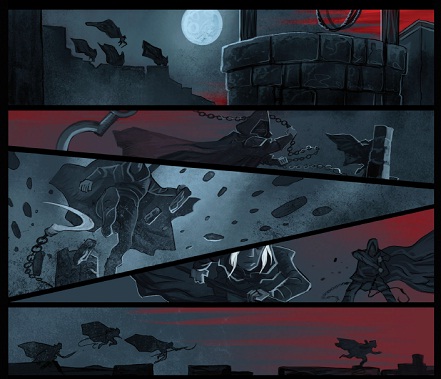 The use of colour is quite purposeful and has a painted quality to them. The use of dark and light is incredible! It worked exceptionally with the artwork. There have been too many great stories and artwork ruined with bad colouring but the colouring work on this graphic novel enchances it!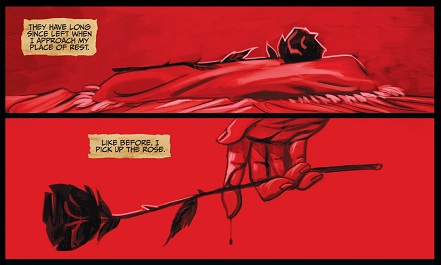 Thanks for the preview copy and your time to answer some questions. I loved your work. How long did you take to develop your world Asunda?
I have been building the world of Asunda for well over twenty years now, ever since I was a teenager growing up just south west of London. At first it was an escape into a diverse world where I could exercise my imagination and play director (dungeon master) to an awesome bunch of guys through D&D and LARP.
I have an amazing team of guys who I push boundaries with. Darrell May, our art director, is an anthropology major. It is important that a reader believes… in everything. There are reasons for stone markings, certain buildings, and so on. Each part of the world must know its own history. So I wanted to get away from traditional British accents and Princesses… for now. That is in another part of the world.
There is a complexity to the characters. How did you design them?
The character building is usually drawn from personal experiences, or other sinners and saints. I like to enrich worlds with flawed heroes and villains; where at times those lines become inexorably blurred. But I do like the extreme personalities, they are fun to explore. I want to make a fantasy world that is character driven and the backdrop, which is vast and volatile, really could have been a Western, post apocalyptic, or whatever. I believe that once the characters honestly grab the reader, he or she will be fully immersed and in love with a universe rich in culture and mythos.
What was your inspiration for the "hero" of the story?
Toshiro Mifune, Clint Eastwood, my old man… my own inner demons… feelings of failing as a good man, and wanting to do better.
What made him redeemable compared to the other 7 souls he was seeking vengeance on?
I would like to think there is salvation for me at the end of the day lol. The other seven, maybe with the exception of one, could also find redemption but choose not to. There is even one of the seven who doesn't really deserve to die, no more than our own hero deserves to live. But, as we put ourselves in the shoes of the hero we have to pose the question:
"Would you damn yourself and kill those in front of you to save the ones you love… no matter what the implications are? A bad man would… and so would I."
I mentioned in my review some similarities to Kill Bill and how this felt more like a movie. Was this your intention?
It's funny you say that, as Kill Bill was referenced by Cameron Hatheway of Bleeding Cool. Originally I had written the outline for the entire comic series as a movie screenplay, ten years ago. My own purgatory mirrors the Stranger lol. I was always inspired by the cinematic giants, Sergio Leone, Sam Peckinpah and Akira Kurosawa to name a few. I then transcribed my script after several iterations into a comic book format, and with Darrell laid out the series with Peter Bergting's brilliant mind and talent. We have an animated show in development with Film Roman (The Simpsons, Ultimate Spider-Man). I wrote the pilot with Andrew Cosby (Eureka), and we are producing with Lloyd Levin (Watchmen, Hellboy, Boogie Nights) and Andrew Sugerman (Conviction, Shopgirl).
As far as the comic series, I had originally wanted to release them as printed single issues: 7 issues for 7 days, which can be downloaded individually online via Kindle, iBooks, Nook etc. Each issue has some of its own bonus world content. With regards to print, as a boutique publisher it just made more sense to go to the hardcover.
Good luck with your Kickstarter! It's already funded now so anyone who pledges will be guaranteed the project will go ahead!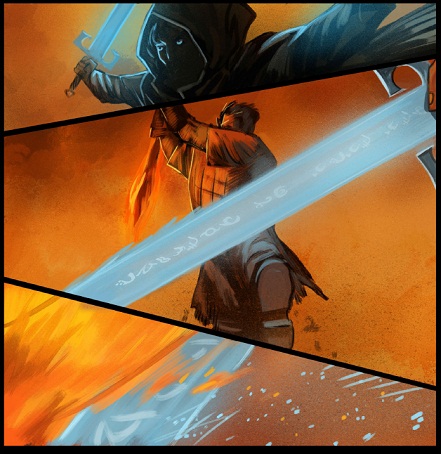 Check out Sebastian's Untamed Kickstarter!
Posted: February 27th, 2015 under art, comic, Featured Artist.
Tags: kickstarter, red, Sebastian Jones, Untamed