Artwork of Jun Premiro
Jun Premiro is a Filipino 39 years old illustrator who has the most amazing line work. I had the opportunity to have a quick chat with him to ask him a few questions.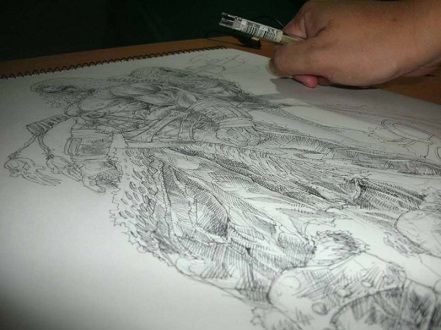 Thanks for Jun for your time! How long have been drawing for?
Been drawing since I held a pencil in my hand back when I was 5. Every school notebooks full of doodles and scribbles starting from the back. Ever since then there wasn't a day that I didn't draw.
Besides illustrating, do you do anything to relax?
I watch a lot of adventure/thriller movies and TV series, specially those with really epic storylines. And listen to a lot of rock music which fuels me with my artworks.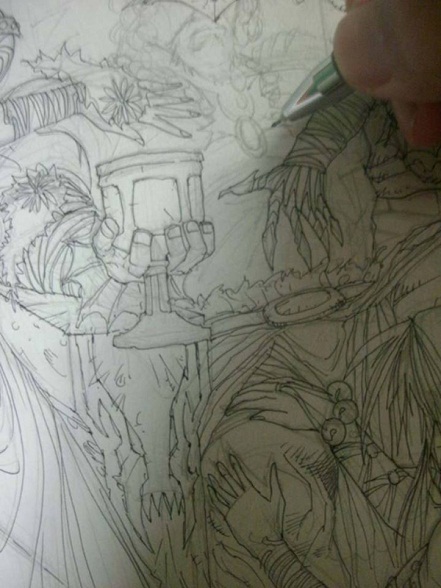 I love your line work.
How would you describe your creative process?
For me, my artwork reflects my state of mind. You can tell my mood through my artwork. And I can say that my artwork's style is not fully mine. It is a mixture of many influences just molded out by my own instinct, thus producing a style of my own in the process.
I'm mostly self-taught, and constant practice driven by my interest and passion back then. Even before I studied Fine Arts in college I already knew how to do art. College and workshops polished it.
Who would you rate as artistic influences?
There's quite a few. Lan Medina, Whilce Portacio, Jim Lee, Finch, McFarlane, Capullo, the Kuberts and Frank Miller.
Is there any published works of yours to look out for?
Under two US indie comic labels, there are some stuff in the works. I've been planning to publish my own comic book for years now.

What is your own comic book about?
The first book is called Gasera, it's a story about a hero who represents the light in a war against demons. The hero is also battling some demons of his own. (More information http://www.facebook.com/GaseraGraphicNovel.) The other one is called Teen Primates which about some kids who are changed to apes and fighting the people who changed them.
That's sound awesome! Some great concept stories. Thanks again for your time and wish you all the best.
You can see more of Jun's work at :
Jun is available for work and/or commissions. He can work on both traditional or digital mediums. For pricing and the cheapest rates, please contact him directly via his FB page http://www.facebook.com/obragalleria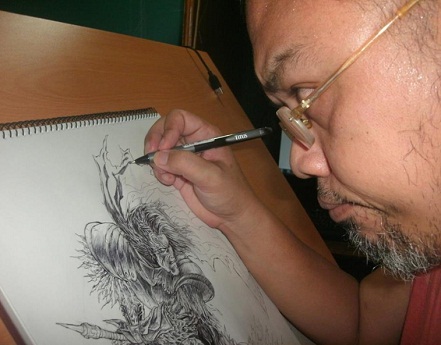 Posted: January 20th, 2015 under art, comic, Featured Artist.
Tags: artwork, conan, Jun, line, roughs, sequential
One Response to "Artwork of Jun Premiro"