Scorpion Night by Ever Villacruz
With the third installment of the Transformers Movie out soon, it would be great to showcase a sculpture by Ever Villacruz (Everlito L. Villacruz) which was inspired by one of the Decepticons in the second movie. Ever is an architect born in Philippines but currently working in Kuwait. This is a "junk sculpture" titled Scorpion Night created from "junk" including combs, wires, pliers, scissors etc. measuring 22″ long with an 18″ tail.
Top :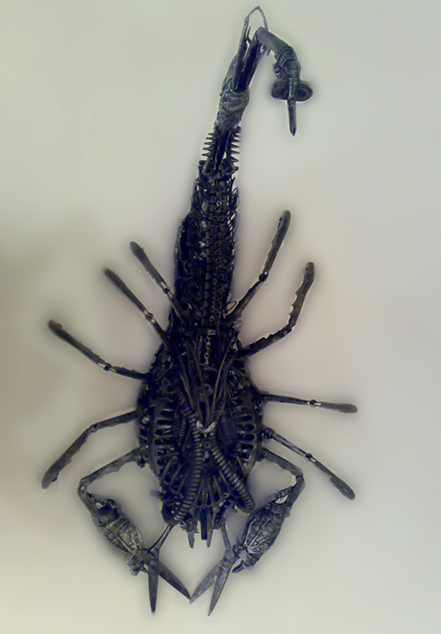 Side :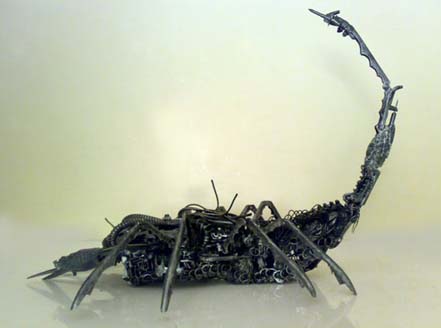 Front :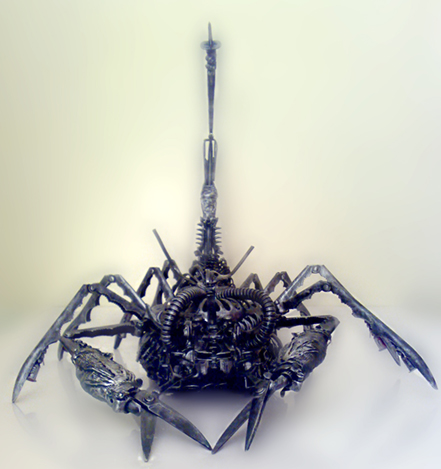 Back :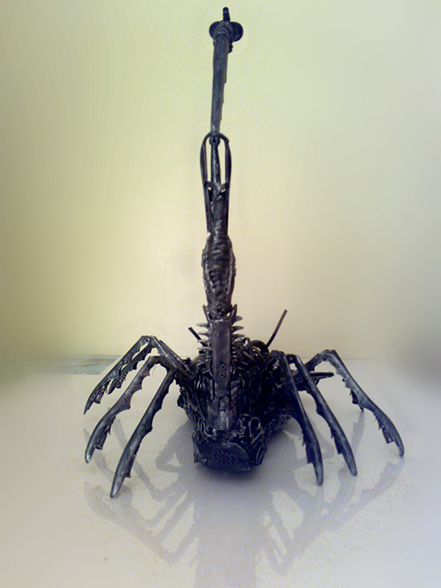 When did you start creating artwork?
I just love doing artwork way back on my college days in architecture course; they call me PASAWAY in design ("stubborn" A person who likes to deviate from others most of the time in arts and design). I myself did not consider as an artist or a talented person in this field, It always reminds me that art is the expression of the artist, central figure and audience that makes art…art..having their own meaning and styles.
A simple line and color gives the art a very spectacular approach, that's why I am very interested. Arts give the fulfillment of my own, and my application of my dream through painting. Junk sculpture and other mixed medium.

Do you do any other work?
I've been working here in Kuwait as an Interior Designer. After office hours I busy myself doing paintings, and junk sculpture, busy balancing the things I need to do., the things I want to do and so I made my own blog called "PAMATAY HOMESICK" means to kill homesickness. This is my first BLOG, posting stories of what I have encountered on my daily routine. I put and consider myself to work here in abroad just like having a case and sentenced to Imprisonment regarding on how many years I'll spend working based on my contract I have signed with, just like a Kulungang Walang Rehas (Prison without Prison Bars).
That's an incredible way to describe your blog. While in Kuwait did you find any way to share your works?
As time comes by, I invited, to come in a group called ADHIKA Group-(mission) and finally come with a small art exhibit. And this is the start and not just the beginning of a modern art style broad genre that includes an extensive list of subgenres and categories that help make up what is typically through of as modern art. Some of these subgenres include Impressionism, Surrealism, Cubism, Mixed Media, Abstract and Pop Art. Having this own unique style and definition, this include the new approach to art that omitted the need to represent images realistically, and instead represented different themes, emotions and various abstractions that emphasized vibrant overall effects rather than exact, realistic details.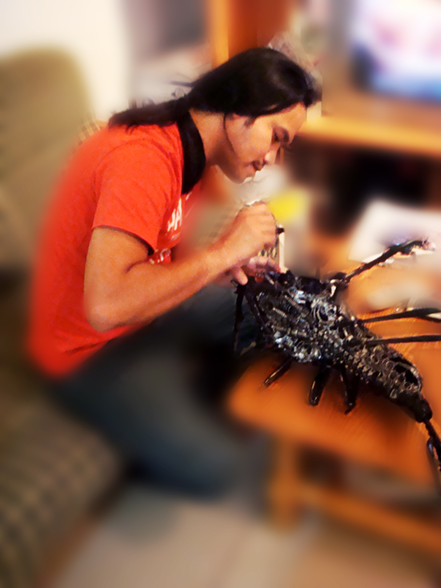 Thanks so much for your time and letting me showcase your works! Hope you get a chance to watch the next Transformers movie when it's released!
For more of Ever check out :
Posted: June 29th, 2011 under art, comic, Featured Artist.
Tags: Ever Villacruz, promotional, release date, sculpture, Transformers 3
6 Responses to "Scorpion Night by Ever Villacruz"