Fables Cinderella by Chrissie Zullo
Canadian born Chrissie Zullo is the cover artist for the Fables spin-off Cinderella. She's lived up and down the East Coast, from South Florida, to North Carolina, and moving soon to New York. She's allowed me to showcase Cinderella – Fables are Forever #2, the process from a preliminary sketch to the final product below.
Cinderella – Fables are Forever 02 – Final :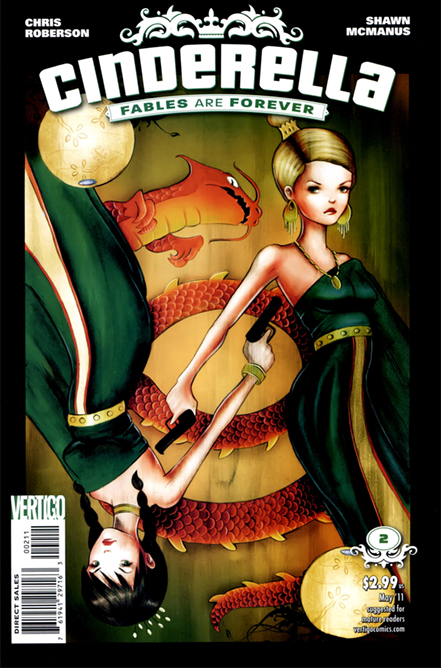 Preliminary Sketch :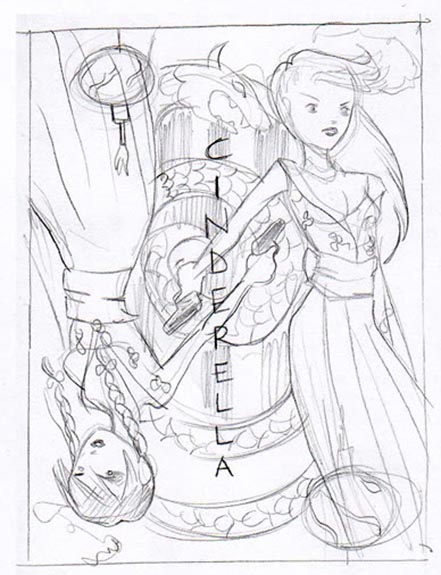 Arylic Wash :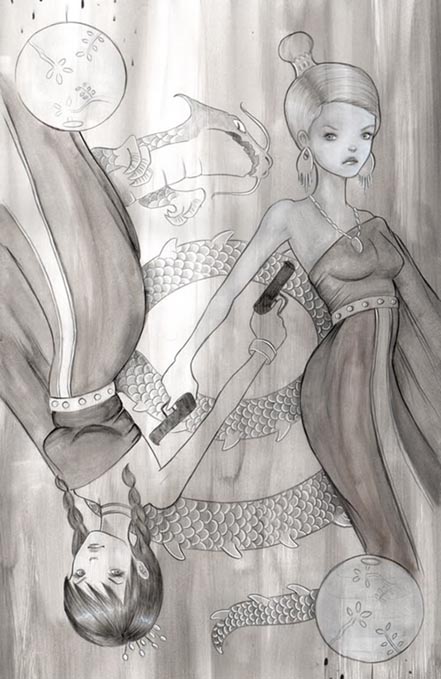 Final (Finished with Photoshop) :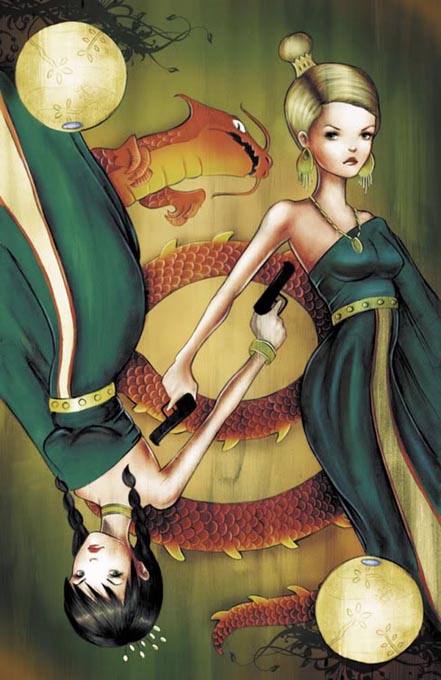 Thanks for your time and agreeing to answer some questions.
Before we discuss your Cinderella work, how would you describe your artwork?
I've heard people describe my artwork as "flowy", "dreamy", and "whimsical", all of which are fine with me! I just try to draw something visually satisfying, and hopefully something beautiful.
How did you get the job doing the Cinderella covers?
I actually got my start at San Diego Comic-Con. I submitted my portfolio to the DC Talent Search and was able to meet with one of the editors at Vertigo. Once I got her name and number, I was determined to do whatever it took to keep bugging her for a job!
How long before you got offered?
It took about 6 months from meeting an editor to getting a gig.
Since you're in DC (Vertigo) any other characters you'd like to draw?
Any female heroine would be fun, maybe Zatanna or Batwoman.
Zatanna is one of my favourite characters!
I like magic and fishnets. Go figure.
Anyway besides drawing what else do you like?
I suppose I'm like everyone else; I enjoy movies and music. I have a strange collection of all things "yeti", and also a pretty embarrassing LEGO collection since I was a kid, that still grows to this day. I love to travel the most, so I try to do whatever I can to attend as my conventions as possible, if only for an excuse to visit a new place.
Who do you rate as artistic influences?
This is always a growing list, but mostly James Jean, Winsor McCay, Alphonse Mucha, French art history, Japanese art history, and current comic artists like Adam Hughes and Travis Charest. I really love so many artists though, and take a little bit from everyone.
Where can we see more of your published works?
Published works include:

Covers for "Cinderella: From Fabletown with Love"
Covers for "Cinderella: Fables are Forever"
Sequentials on interiors for "Madame Xanadu"
Sequentials on interiors for "Fables 100"
Variant cover for "Hack/Slash"
Thank you so much for your time!
Hope to see more of your artwork in the future.
To contact Chrissie for work (or commission) email chrissiezullo [at] gmail.com
More of her artwork :
Thought I'd sneak one last showcase and since it's my favourite character Zatanna by Chrisse Zullo.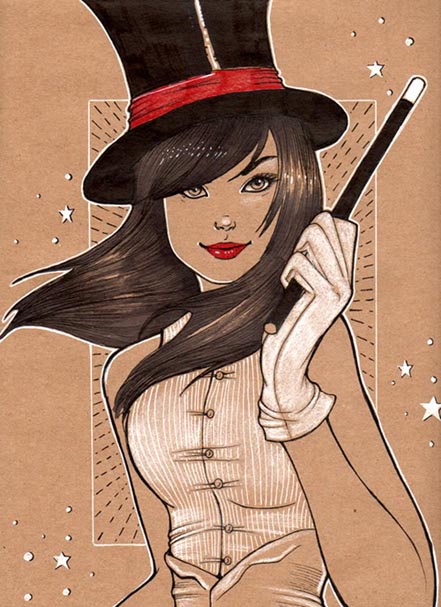 Posted: May 9th, 2011 under art, comic, Featured Artist.
Tags: 02, artwork, cbr, cbz, Chrissie Zullo, Cinderella, cover, Fables, Fables are Forever, Fables cover, zatanna
6 Responses to "Fables Cinderella by Chrissie Zullo"