Supergirl and Wonder Woman by Michael Bridges
Previous featured artist Michael Bridges is showcasing an amazing Wonder Woman and Supergirl. Both pieces are available as prints from Michael's website, click on the picture and follow the Paypal instructions if you want to pick up a print.

Wonder Woman :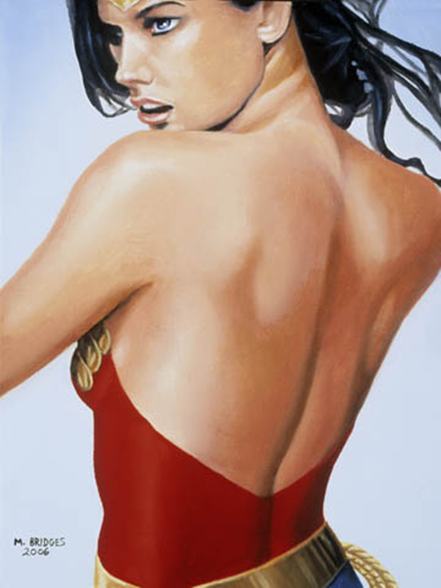 Supergirl :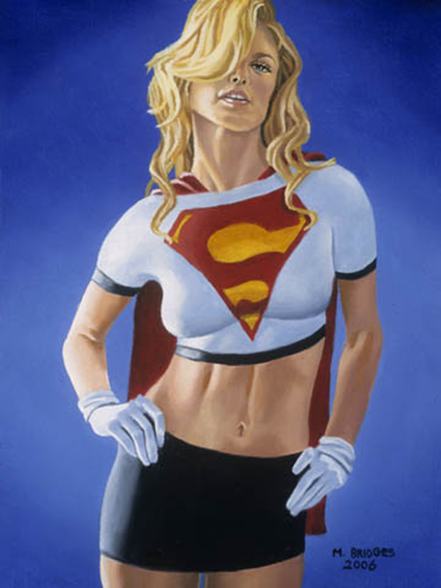 What's the first thing you do when starting a superhero painting?
Whenever I do a superhero painting I will try to find a model photo that I think fits that superhero in looks as well as the pose. I can't afford to hire a model and none of my friends or family have a
superhero look. I then draw the photo on the canvas and put the model in their superhero costume.
What materials do you use?

In the first stage of the painting I use acrylic paint and just put on
flat colors so I can see where everything is.
In the next step I put on the oil paint starting with the background, that will give me an idea of how deep the colors will be on the figure. Last I work on the hero by first getting in the dark tones and then working in the mid tones and the light areas.

Thanks for the quick rundown!
(And letting me showcase your awesome work.)
For more information check out the videos that Michael made explaining the process :
Posted: October 23rd, 2010 under art, comic, Featured Artist.
Tags: bbw, bbww, Kara, nude, sexy, sketch, supergirl, Wonder Woman, ww