Fox and Tiger by Dion Hamill
Previous featured artist Dion Hamill (who also did an amazing Star Wars step by step guide) is sharing his experience on another project. This one is a children's book called "Fox and Tiger".
Final Image :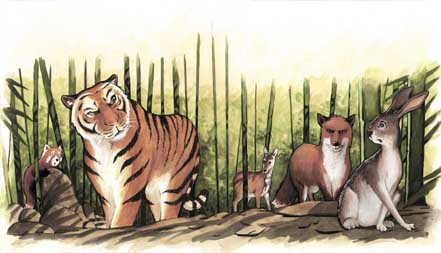 Dion Hamill – Guest Post
I also enjoy technical challenges, like how to solve an illustration problem quickly but still with quality. A few months ago working on a children's book titled "Fox and Tiger" the brief required the two lead characters Fox and Tiger to be walking through various scenes in China with distinctive characters to the region surrounding them. It goes to the publisher who approves all the images, the designer gets back to me and then I get started on the final colour art with the clock ticking down to the deadline (which always seems too short).After completing the final art, sending it in way ahead of schedule I sit back to relax with a martini.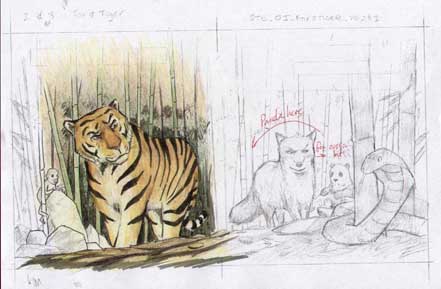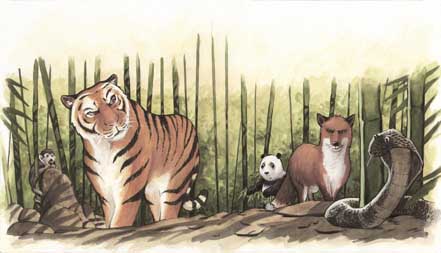 That's when I get the call, the publisher wants to change all the supporting characters to different animals. I generally work on illustration board with gouache and I really didn't want to paint over the original art or completely repaint the image. So after first doing some sketches of the new animals to be portrayed in the images I paste them in using photoshop over the original art.
Once this is approved I then paint the new animals on a separate illustration board using the same materials and medium. Then I scan them in and merge the new animals on top of the old art in photoshop. Finally I paint over the surrounding background in photoshop using the various tools, trying to emulate my "old fashioned" painting style so the artwork looks seamless. Overall it took about a day to complete all 8 pages and I still got the work in on time and with quality.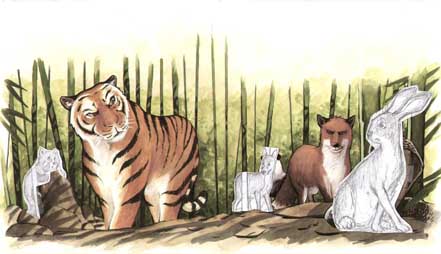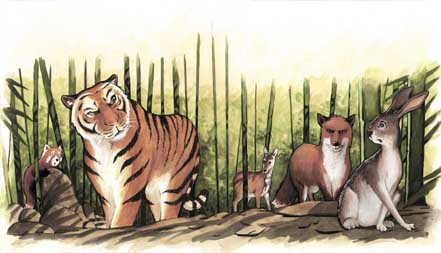 Its not exactly breaking new ground but I was quite pleased with myself, as I'd never used the Photoshop program before. So I'd challenged myself to find a solution and learnt some new techniques along the way and doing that keeps being a freelancer fresh and exciting.
Posted: January 18th, 2010 under art, comic, Featured Artist.
Tags: artwork, dion hamill, fox and tiger
One Response to "Fox and Tiger by Dion Hamill"