Elmo on Google Homepage
A few days ago Cookie Monster was on the Google homepage, today it's Elmo! For a little bit of trivia, Elmo appeared as Elmo on 18 November 1985.
"Elmo happy to appear on Google homepage!"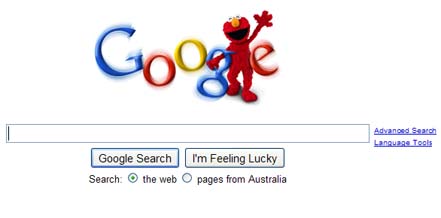 As much as I love Elmo, Cookie Monster will always be my favourite of the Sesame Street characters. However Elmo has hosted some incredible guest stars such as Norah Jones, Goo Goo Dolls, Jack Black and an amazing duet with Andrea Borcelli.
Posted: November 8th, 2009 under Movie TV, Website.
Tags: cookie monster, elmo, google, sesame street
4 Responses to "Elmo on Google Homepage"