Pan "Neverland" by Isaac Mardis
Isaac Mardis from Houston, TX is showcasing his work on a reimage of the Peter Pan mythology. Check out the samples for some incredible sequential story telling.
Neverland page 8 :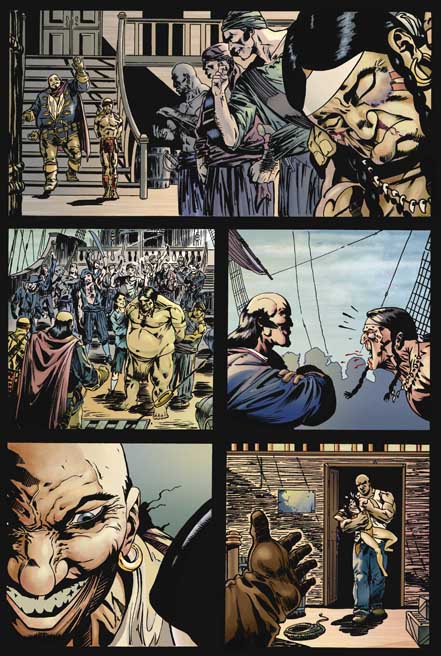 What type of story are you trying to create?
I wanted to tell a story more like the never ending story meets the biblical story of Moses. It's about the world of Neverland dying due to Capt. Hook and his crew making it a place children would never want to dream about.

What's Pan's role in the story?
Pan's the guy who can bring balance back, but he is a pirate albeit still a youth. I'll spend most of the time answering the questions that I couldn't about the mythology when I was young and trying to teach teenagers that it's alright to enjoy your youth-so don't try to grow up so fast! I redesigned a lot of the characters, most notably Hook, because I think he needs to be menacing and scary and aged pan to make him a believable fighter, like Robin. I based him on the pirate Bloth from the old cartoon 'The Pirates of Darkwater'. He always scared me as a kid.
Neverland page 9 :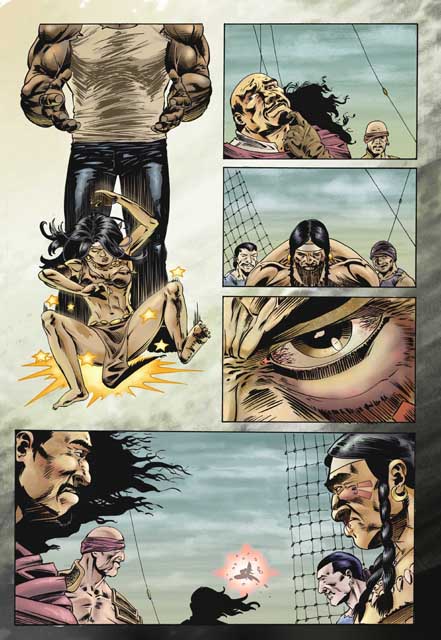 What do you consider the most important component of sequentials?
As far as angles, moving the camera is the biggest thing you learn at the Kubert School. You look at Andy and Adam, and they never give you the same shot twice, unless it's for story-telling purposes. I move it whenever I can and focus on frameouts. Using lighting and object placement is a huge compositional and storytelling component. That's the biggest difference between Andy and Jim Lee, I think. Always try to put something in the foreground to add depth, that was Joe's biggest thing.
Neverland page 10 :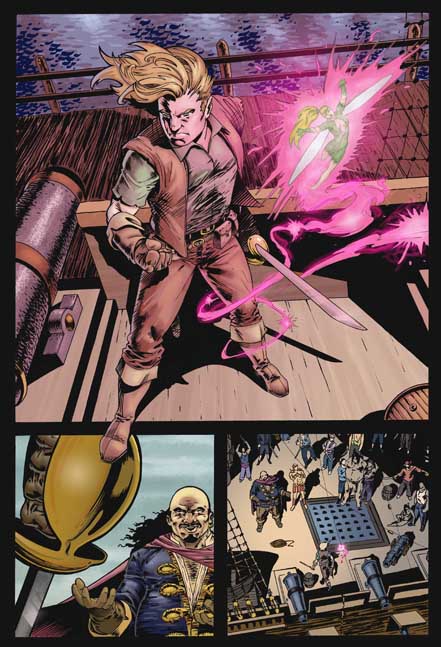 I thought I'd ask you a little more about you.
What got you into comics?
I've loved comic books since junior high, when I got my first two for my 12th birthday. They were X-Men #22 and Uncanny X-Men #302. Not surprisingly, with the 90's cartoon in full force, the X-Men have been my favorite comic characters ever since. Along with the characters, I was lucky enough to have my first encounter with comic art be from the two first families of comics, the Kuberts and the Romitas, with Andy and John Jr. handling the respective duties. Andy's art in particular fascinated me, probably because his chicks were hotter, so I spent most of my youth trying to ape what he was doing.
Did you try and turn it into a profession?
When I graduated from high school in 2000, I thought it would help to attend the Joe Kubert School of Cartoon and Graphic Art in Dover, NJ to learn what I needed to know about the fundamentals of sequential cartooning. I was lucky enough to have Andy as my instructor when he started teaching in 2001. I don't think many people get to learn their craft from the people who inspired them, so I soaked in as much as I could. He was also, along with his dad and brother, truly a nice person who took the time to play some basketball with us in the old gym (which I've since heard has been torn down). My peers were also some incredibly talented artists that I learned just as much from. I sat next to Alex Sanchez, who just did a Batman one-shot along with some Buffy stuff and X-Men Unlimited work, bumped gums with superstar letterer Jared K. Fletcher, and chatted with David Nakyama (Big Hero Six) who was a year behind me. I also heard of some guy a year ahead of me named Shane Davis who was breaking in- I heard he's doing alright these days. It was definitely intimidating, to say the least. To add insult to injury, there was a heavy work load to deal with. Joe worked hard, so we did too.
After all that hard work, what was your next step?
By the third and final year, I realized it is pretty frickin' hard to maintain a career in comics even if you break in, and I didn't want a charity auction in my name when my lack of benefits caught up to me, so I went to get my teaching degree at the University of Houston. I'm still in school plugging away, working on my own stuff, which will hopefully get published some day. My best friend, Nick Pitarra, caught the comic bug and is working with Jonathan Hickman on Astonishing Tales for Marvel, so I keep up with industry pretty close. As far as processes go, I'm not the fasted dude in the world, so whatever gets the job done is what I do. If that's using the light box for some buildings, sketch up for quick perspective work, or posing my girlfriend for photo reference, than I'll do it. I like to ink myself these days (never thought that would happen) and I'm trying to learn how to color my stuff right now.
Thank you so much for your time and also for allowing me to showcase your incredible work on Pan Neverland. Good luck in the future with all your endeavours.
To contact Isaac in regards to commissions ikedog34 [at] hotmail.com.
To see more of his work :
Posted: June 8th, 2009 under art, Featured Artist.
Tags: artist, isaac, neverland, sketch
8 Responses to "Pan "Neverland" by Isaac Mardis"