Mary Jane by Adam Braun
Horror movie buff Adam Braun does some of the most realistic artwork I've seen. Adam's showcase piece is a Kirsten Dunst inspired Mary Jane sketch.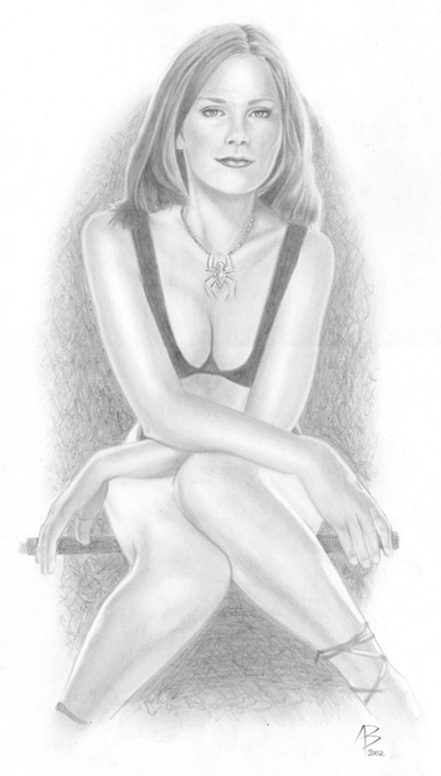 When did you get interested in art?
I've always been interested in art. I started drawing as a kid, usually copying pictures from comic books. I didn't get serious about it until high school where my art teacher really took an interest in my work and I met a few people also interested in comics and art. Me and one of my friends from school decided to work together on some comic stuff, he did the pencils and I inked. I kept inking until I got good enough to get some jobs, working for mostly small companies like Brainstorm and London Night. I was never able to crack into the big companies and eventually the bottom fell out of the industry in the mid 90's. I always worked on other things, including drawing and airbrushing portraits, and when comics wasn't going anywhere, I sold pieces on eBay. I eventually started going more toward pinup art, since I drew mostly women, and I've been doing it ever since, trying to reinvent myself and grow as an artist.
How would you describe your artwork?
My art is definitely realistic. I always try to use reference because I am a perfectionist when it comes to the small details. I think that is what makes a good drawing.
Did you attend any formal art training?
I would consider myself self-taught although I did attend college for a little over a year, majoring in art. My artwork did grow over that period, but I left to pursue the comic industry, we see how that worked out.

Any artistic influences?
Patrick Nagel, Hajime Sorayama, Boris Vallejo, Alex Ross, Eric Drudwyn, Armando Huerta, Olivia, Jim Lee, John Byrne, Matt Busch, just to name a few
Thanks for your time and wish you all the best in your future endeavours!
For more about Adam :
Please email any commission inquiries or requests to arbcdf [at] aol.com
Posted: June 22nd, 2009 under art, comic, Featured Artist.
Tags: adam braun, artist, mary jane, sketch
6 Responses to "Mary Jane by Adam Braun"