Happy Easter All!
I was Nuffnang blogger of the month for March.
The new Nuffnang blogger of the month for April is Violet.
Be sure to check out her blog!
Wishing y'all a very happy Easter Sunday.
Hope you find heaps of chocolate eggs!
I tend to showcase a lot of professional artists' work but I have received several emails asking me to show more of my work. I don't think mine rates anywhere close to the featured artists on this site but I thought I'd post a quick sketch for Easter. I left a lot of the construction lines in but did a quick inking job and a little photoshop tidy up. Hope you like it!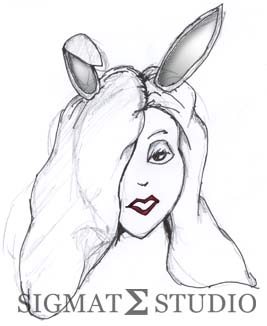 Posted: April 12th, 2009 under art, Website.
Tags: bunny, easter, playboy
7 Responses to "Happy Easter All!"