Timothy Rees Artwork
41 year old Timothy Rees from Cornwall, England has produced some amazing sequential pieces to showcase in between his job as a substitute teacher at local primary schools.
Tim's Marvel submission highlights his sequential storytelling skills. Unfortunately due to the size restrictions, a lot of intricate details were lost in the below jpegs from the high resolution scans. However, it's still amazing work!
Marvel Submission 01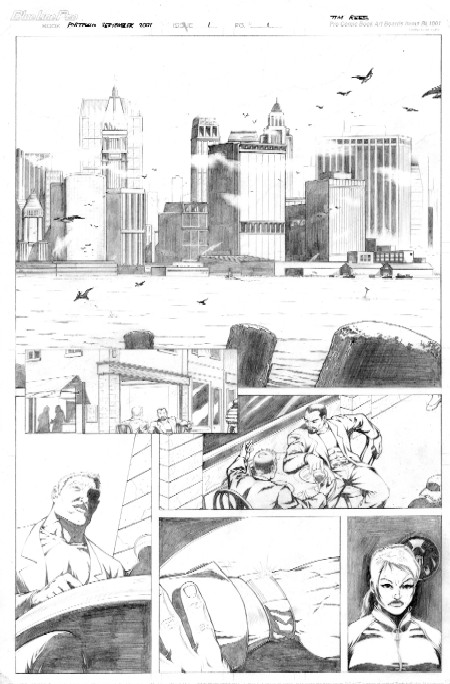 Marvel Submission 02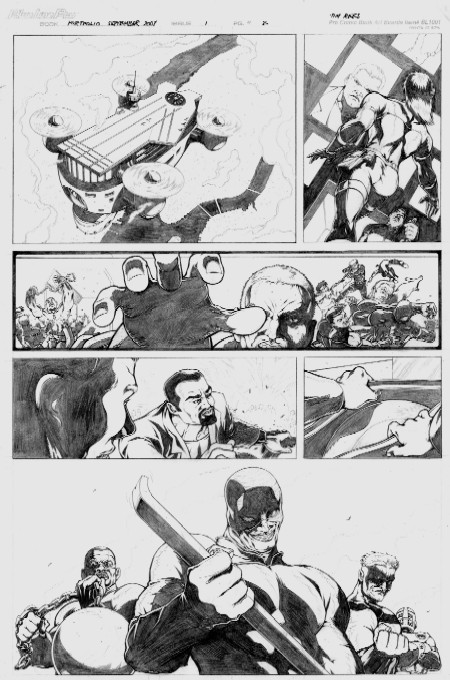 Marvel Submission 03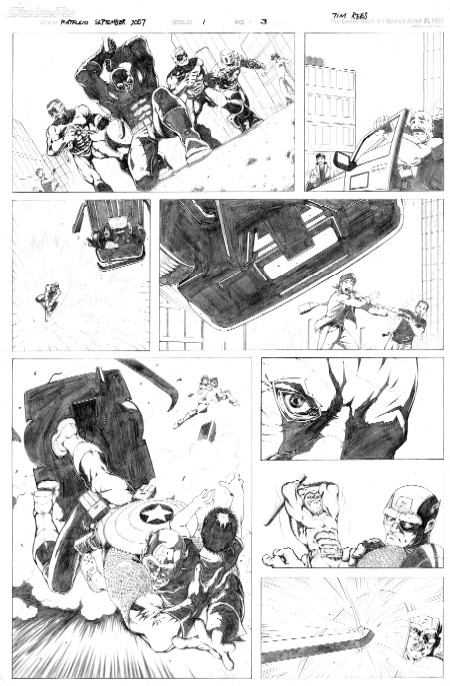 What happened with this submission to Marvel?
I got the standard, "thanks but no thanks " letter. I also showed my portfolio to Michael White (DC art editor) a year ago at a convention in the UK . . . where he was moderately constructive. Since then, I've really just been too busy! I would like to produce new portfolio pages sometime this year, as work and other commitments allow.
I hope you keep updating your portfolio! I know it's cliche but the next big break could be just around the corner. Besides comics, what else do you enjoy?
I enjoy music . . . pretty much of all types, I guess. I tend to particularly go for quirky female vocalists, so Kate Bush and Liz Fraser of the Cocteau Twins, are big faves. Big fan of musical theatre and theatre in general. I love movies, particularly big, loud sci-fi and action . . . Starship Troopers is my default favourite movie. To Kill A Mockingbird is the film that can make me cry . . . a great film of a great book. I like being thrilled and entertained when I'm at the movies, but more thoughtful dramas are also really important. When I'm not drawing, or teaching, I'm a bit of a slob, so I'll be watching some tv!
How long have you been drawing?
I've been drawing pretty much all my life, and always had a very active imagination! I was always drawn to action and adventure-type scenes. I used to love drawing dinosaurs and cave-men fighting each other . . . which obviously never happened, but I think I'd been watching One Million Years B.C. on TV! When I was about 5 years of age, I discovered comics . . . UK reprints of Marvel comics to begin with. I remember one particular series was called Marvel Comics Weekly, and featured Ditko-era Spider-Man, the Fantastic Four and possibly the Hulk. Later, I got into The Avengers, particularly Captain America, who remains my favourite Marvel character. So, the dinosaurs made way for Cap and his friends! Since then, very few days have passed when I haven't drawn something.
You must have been sad then with what happened to Steve Rogers (Captain America) after Civil War. Feel a little bit like a psychologist asking this but most people got into comics when they were kids. Were you the same?
I have two brothers and two sisters, and I'm next to the youngest. We all played together as kids, and particularly with my brothers, we played a lot of action/superhero games. I did pretty well at school being a fairly studious type, and that eventually took me to college and teaching. All through that time though, I harboured the dream of working as a comic-book artist. I found some writer contacts who were around my age, in their early twenties, and we produced numerous stories in the UK small-press (or independent press ), such as Time Rogues (writer Tim James) and Secret Lives (writer Lee Davis). Teaching took up most of my time though, so my artistic development was somewhat faltering!
What would you consider as your artistic style?
I would call my style cartoon realism. It's basically classic US-style artwork, but with a little UK attitude, and the occasional manga-style flourish. Having said that, I tend towards a fairly sleek style, and my full-on pencils (when I don't intend inking myself), are highly detailed and rendered . . . I'm a typical Scorpio control-freak in that respect! I LOVE to draw dramatic action scenes, as I feel I can just let my imagination and artistic-eye run wild. My drawing always gets a sound effects track running through my head. I always strive to achieve maximum drama, and see the figures I draw as actors, with me as the slightly too-demanding director!
Did you pursue any formal training?
I have a degree in Art and Art History, which I loved doing (most of my work was in figurative sculpture), but as far as comic-art goes, I'm self-taught. I just absorbed so much from my formative years as a reader/artist, it can't help working it's way from my memory, down my arm to my pencil and then the board. I sometimes find myself saying, "I'll Miller this scene!", or, "Let's go Alan Davis on this guy!" Apart from those two greats, I'd give Kevin Maguire, John Romita Jr. and John Byrne as my key influences, along with Michelangelo and Burne Hogarth.
With your intention to "break in", is there any of your works out there?
Over the last 3 years, I've begun to get closer to where I wish to be in the industry . . . namely getting paid, rather than doing it for the love of! I produced two issues for a yet-to-be published martial arts series in the UK, which was cool because Alan (Batman) Grant scripted them. I have completed three issues of "The Cadre" for Mat Nastos, but that series seems to be on hiatus for now. I was one of the lucky entrants for Arcana's "Dark Horrors II" anthology last year, which was great. I have also provided the artwork for a 22-page prequel to the Brit-flick "Ten Dead Men", which is to be a DVD extra, when the film is released later this year. That was an interesting challenge, because the writer/producer wanted a sort of "Sin City" feel to it…so it was all stark blacks and whites. I tried to get something half-way between me and Frank Miller . . . not to say I in any way deserve to be set alongside FM, but that's what I aimed for! I've done an 8-page story for Queeroes with writer Tony Smith, loads of (quite detailed) breakdowns for a graphic novel set in the sleazier side of Hollywood, and I'm currently working on a submission which is straight-up superhero fare. It's all go here at Rees Towers! I'm very lucky, in that I've been able to produce a quite varied range of work, particularly in the last year or so. I am hoping to get even more in the future!
Thanks so much for your time. All the best in the future and looking forward to see your name attached to a comic in the near future.
Tim is available for commissions with very reasonable rates. He's a gifted mimic, so feel free to ask for a David Finch Captain America or a Kevin Maguire Power Girl. His email is timothyrees [at] tiscali.co.uk
Check out his website http://www.timreescomics.com for more of his work.
Posted: February 19th, 2009 under art, comic, Featured Artist.

7 Responses to "Timothy Rees Artwork"