Spiderwoman by Jean Sinclair
Jean Sinclair is an awesome upcoming Brazilian artist. Although currently focusing on pin ups, some of his sequentials are fantastic. I was so impressed with his artwork that I commissioned a Spiderwoman piece from him and also managed to ask him a couple of questions about himself.
Firstly . . how did you get started drawing?
In 2005 together with my friends Luis XIII and Jonathan Lima, I started auctioning original art on sites like eBay and Comic Art Community. I'm currently working on original drawings and illustrations for collectors while searching for work in comics industry.
Besides drawings, tell me about yourself.
I was born 24th November 1978. I love God, my family (wife and son), my parents and my friends. I love to pass my free time reading comics (YES!!! I´m still a fan), playing video games (STREET FIGHTER ROCKS FOREVER!) and watching some good movies.
Haha . . I love Street Fighter too. Don't even want to think about how much money I have spent playing that game. How did you get into drawing and what style do you consider your work?
I prefer a classic art style. I love mangá too and I get some influences from there but my main style is still classical. I'm a self taught artist since my childhood. I've got a lot of comics and began to copying. When I was a teenager, I began studying from anatomy books and from great artists like Burne Hogarth and Andrew Loomis. My storytelling studies are from Will Eisner. Currently I´m studying in College: Plastic Arts in CEFET-CE
Who else would you consider your influences?
There's a few including Al Rio, Ivan Reis, Carlos Pacheco, Enrico Marini and Steve Skroce.
What other works have you done?
I've done various covers, comics, books & merchandise. Recently finished an 8 pages for Argo Comics Anthology.
Spiderwoman 1 :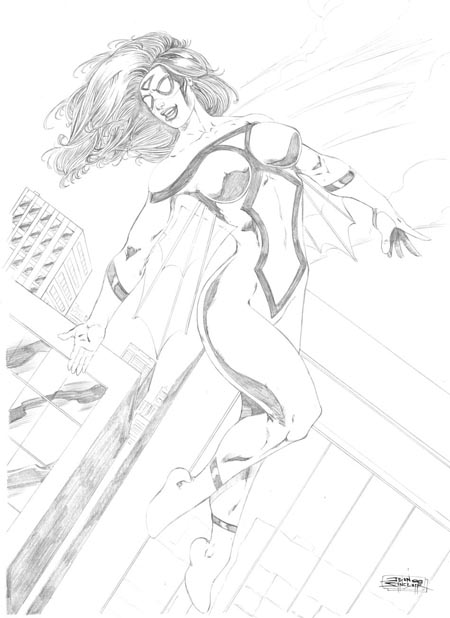 Spiderwoman 2 :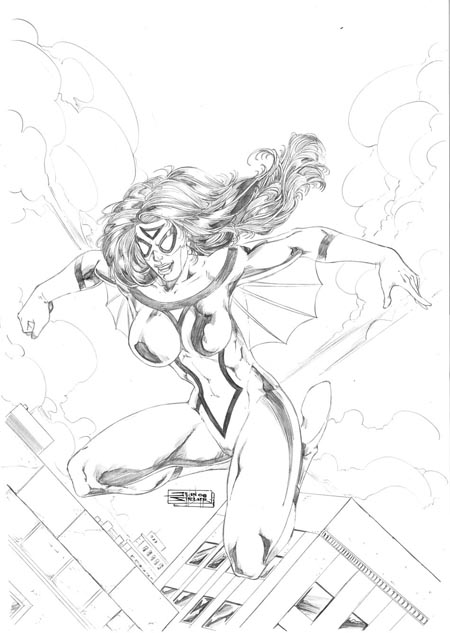 Both pieces are amazing, especially like the detailing in the hair. In the end I purchased the second sketch as the pose seemed more dynamic! It's another spectacular piece to add to my ever growing collection. Make sure you check out his eBay account jeansinclair1978 for the chance to pick up some original artwork!
Posted: December 17th, 2008 under art, comic, Featured Artist.

3 Responses to "Spiderwoman by Jean Sinclair"