Drawing Course – Week 1
Back in August I enrolled in a new drawing course and picked up the required equipment last Thursday. The course was different to what I expected but it was really good fun, with the two hours flying by in an instant. It was a small course of ten people run by artist Karl Mattas.
The first technique he taught was to follow contours. Following the lines of the body with the eye rather than looking at the page. While the image drawn would not be in proportion, he mentioned you will be able to pick up details you would usually miss. My first attempt (left) viewing a standing model at a slight angle, followed by the model turning around (right). I tried to follow the contour of the hand in the second drawing.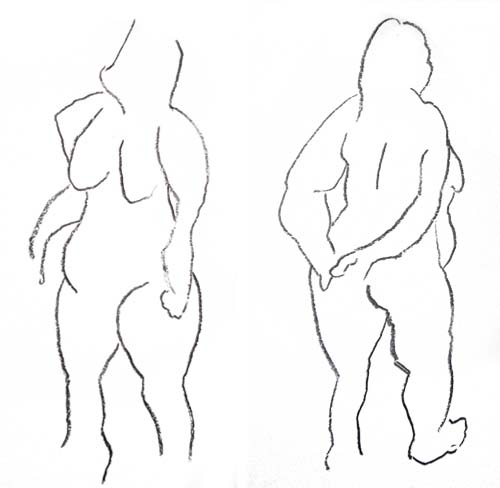 There was more time given to the next image (below left) where the model was sitting. The proportion was a little skewed with some of the lines intersecting. It was difficult to follow the hair using the contours. The final image (below right) was the most difficult of all. Drawing the model without looking at the page. It sounds much easier than it is especially when there is a natural tendency to check your work.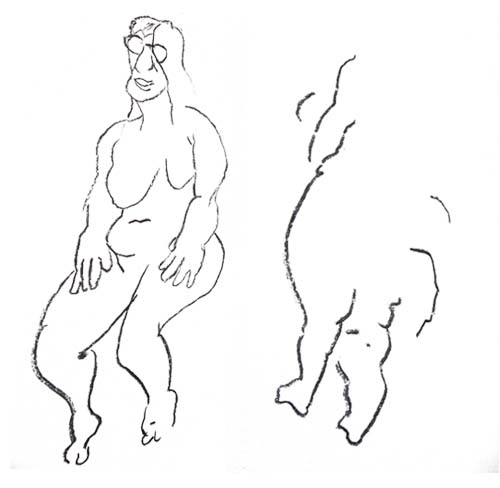 Overall it was an interesting experience and a chance to use Willow Charcoal for the first time. It's given me a different feel to drawing as I've been following the various drawing books up till now. Working with a live model and a teacher opens up a new perspective. Can't wait for week 2!
Posted: October 21st, 2008 under art.
Tags: art, life drawing, model, naked, nude, sketch, woman
2 Responses to "Drawing Course – Week 1"