Spidey by GW Fisher
I love dynamic comic art! Was lucky enough a little while back to convince GW Fisher to do a commission for me (and also fortunate to have some spare cash to pay for it). This was description I provided.
Background :
NY City
Characters :
Spiderman & Mary Jane
Description :
Action shot of Spiderman swinging on web carrying MJ. MJ looks very happy. MJ in skimpy outfit (maybe a little bit of panty line showing but no nudity). One or 2 stunned onlookers staring on.
Mood :
Happy, Carefree
And the final result! Haven't had a chance to frame or put it up on the wall yet. I really love the movement of the piece. The inking is superb and a lot of detail has been put into the building.
Check out his website http://gwfisher.com for more of his artwork samples.
Update 19-Sep-08 :
Added the original sketch.
Awesome pencils and fantastic inking!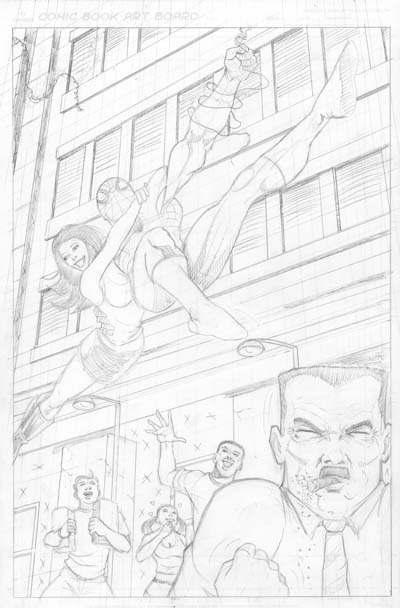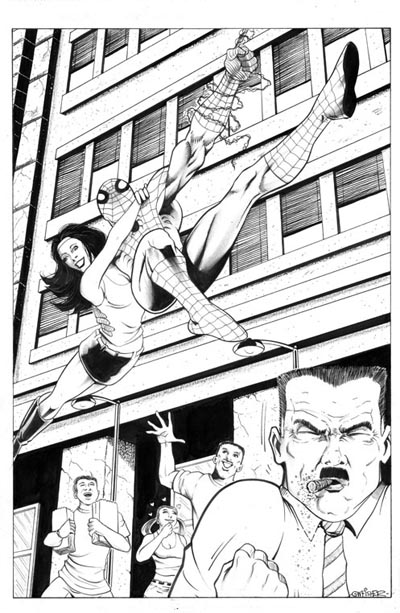 Posted: July 29th, 2008 under art, comic, Featured Artist.
Tags: GW Fisher, jonah, New York, peter parker, spider-man, spiderman, spidey