The One by Pasquale Qualano
For Christmas, I managed to sneak in one of Pasquale's artwork. Now I have the opportunity of posting up more, showcasing his works on The One. His preliminary sketch is brilliant, capturing the movement of the horse as the rider pulls back on the reins. The final colours are muted but excellent.
Preliminary Sketch :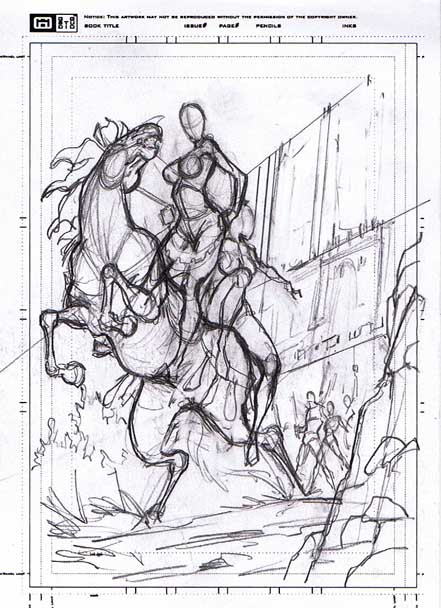 Detailed Sketch :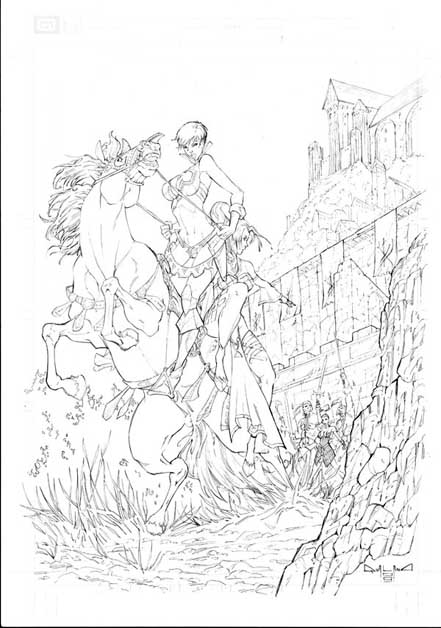 Final :

Faras is the lead character in The One.
Faras Sketch: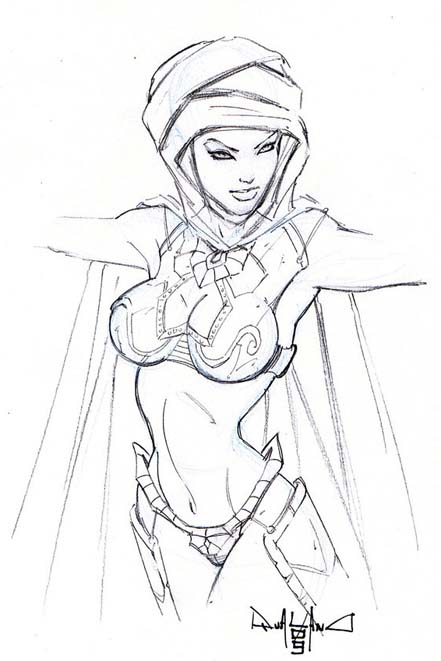 Pasquale's showcase wouldn't be completed without showing off a fantastic cover and an interior page. The sequential piece doesn't need words to convey what's happening which is a very high compliment to the artist!
One Cover: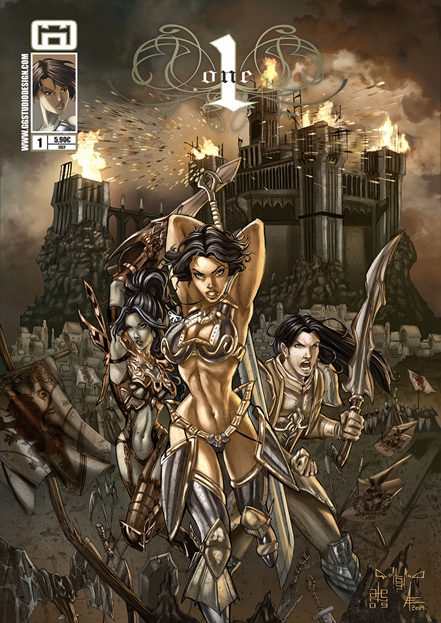 One Page 32: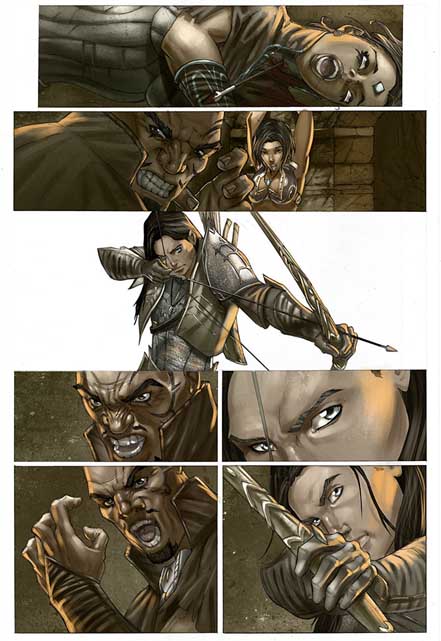 Thanks for letting put up some of your work. So where are you from?
I was born in Torre del Greco (Naples) on April 16th, 1974 and still in the province of Campania. I started training myself in the world of professional at 19 in the parent's sculpture workshop, firstly with drawings and sculptures.
How would you describe your artwork?
I am a comic artist and a sculptor. That means it's my job to interpret the script into drawings and like any other sculptor, I work on models as well as cooperate with other italian artists for Napoletan crib.
I've studied in a High school of Art and I obtained my diploma in sculpture ,graphic designer and drawing. I am self-taught in the art of comics but during the life drawing I've know many excellent Italian artists, who helped me to improve and steer me in the right direction.
Who would have most influenced your work?
The old masters John Buscema and Frank Frazetta. The newer artist I like a lot are Adam hughes, Chris Bachalo, J Scott Campbell ,Terry Dodson and Mark Silvestri.
What works do you currently have published?
So far 2 issues of She-Hulk (Marvel) #35 and #36. In 2005 I started a long collaboration with GG Studio as a conceptual artist. Today I still work with for GG Studio Publishing for charcter ,cover artist and penciler. I am also the penciller for "The One" as you can see above which is a fantasy comic. Oh and of course . . . four illustration for Italian soccer advertising for National Tabloid.
Again thanks for your time and wish you all the best in your works. Pasquale was kind enough to provide a lot of more artwork but rather than clutter up his interview I'm saving that for another post, so keep watching this space!
For more his work :
http://pasquale-qualano.blogspot.com/
http://qualano.deviantart.com/
For commissions or to contact Pasquale email :
info [at] qualanoart.com
Posted: January 12th, 2010 under art, comic, Featured Artist.
Tags: artist, one, Pasqua, Pasquale Qualano, sketch
10 Responses to "The One by Pasquale Qualano"