Deadpool by James Nguyen
Originally from Saigon, Vietnam, James moved to Florida when he was 3 months old before settling in Pennsylvania. For his showcase piece, James has provided a Deadpool piece from pencils to completed sketch. I love the action and how dynamic it feels!
Pencils :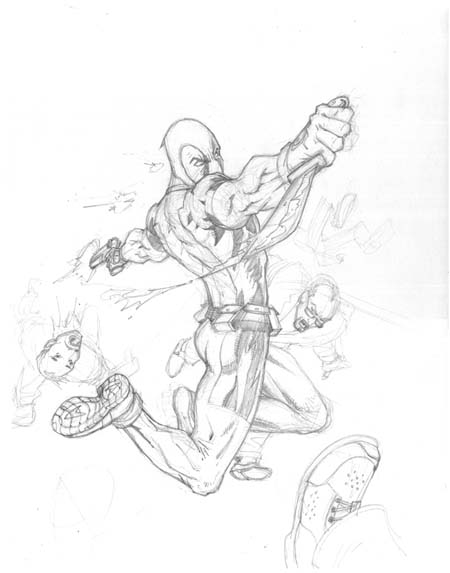 Inks :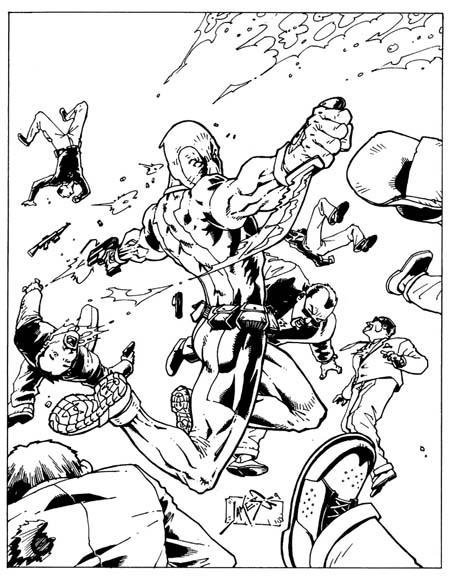 Coloured :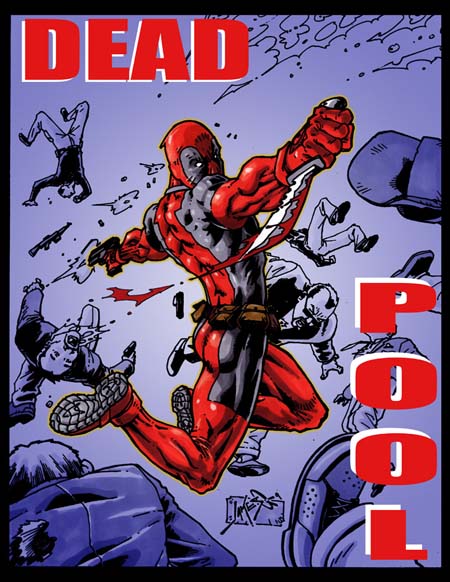 How long have you been into comics?
I always loved comics as long as I can remember but I never actually owned any until I was in my teens. I can remember collecting Todd McFarlane's Spider-Man every month and that's where the addiction started. Then came Jim Lee's X-Men and Whilce Portacio's X-Factor, pretty soon Image Comics started up and I knew what I wanted to be when I grew up!
I love McFarlane's Spidey too! I still have some of his issue tucked away in a box somewhere. You're artwork is incredible btw. What are you doing now?
Now, I am 34 and married to a wonderful woman and have three amazing children. I currently work for a trucking company to pay the bills but I always hold out hope for one making a living through my artwork. The most important things in my life are: God, my wife & kids and drawing comic related stuff.
What do you do for fun? Is it drawing?
Yup . . . I draw, draw, draw. I read comics and watch movies every now and again. Occasionally, I watch TV, mostly Fox News–because I'm not a liberal, plus I don't have normal cable so I'm limited to the amount of channels I have. I love playing with my kids, too.
How would you describe your artwork?
I think my artwork is a mix of eastern and western style comics. I allow all artwork to influence my style on a conscious level. I like trying angles that I see other artist do that are interesting or challenging. I am very open to incorporating all types of styles into my own so I am always growing and expanding my artistic vision.
Have you done any courses to develop your skills?
Other than high-school art classes and one semester of one drawing class at a community college, I am self-taught. Lots of lonely nights at the drawing table have really helped me feel confident in my artwork.
Anyone you'd consider as artistic influences?
I love all sorts of art so I don't know every influence by name. As far as comic book artists go, my major influences are Jim Lee, Joe Madureira, and Joe Quesada, in that order. I love many other comic artist and too many to name here, but like good solid artists that can really tell a story at the same time. It's so important to me that their storytelling is as good as their pin-up work. That's the difference between a good artist and a great artist. Some new favorites for me include Travis Charest, Bryan Hitch and Francis Manapul, so you can see how diverse my taste in comics are.
Are you close to "breaking in" to the industry?
"Breaking in" is all relative, I think. I've just done four pages for a comic called Atomic Robo: Dogs of War #5 (in stores NOW!) so I am actually published, but I don't think that brings me any closer than I was before I did it. I struggle with trying to "break in" to one of the Big Two and trying to make it on my own. Right now I'm starting my own project and I plan on submitting it to a few publishers and I am optimistic that someone will agree to publish it. If that doesn't work, I'll probably do some more submission pages to see if I can catch the eye of a DC or Marvel editor.
I believe strongly that you have to network in order to be given a chance in the comic book industry. Going to conventions and rubbing elbows with fellow artists and comic book insiders will give any artist a leg up in the long run. I've been starting to do this recently and it's gotten me closer to "breaking in" than anything else I've tried.
Wish you all the very best of luck.
Thanks for all your time and your thoughts.
For more of his work you can check out :
Posted: May 18th, 2009 under art, comic, Featured Artist.
Tags: art, artist, deadpool, marvel, sketch
16 Responses to "Deadpool by James Nguyen"