Artwork of Dion Hamill
The last post was a showcase of Dion Hamill's Zatanna. Hailing from Sydney (Australia) Dion's been a freelance illustrator for about 9 years, now working in Publishing and Marketing predominantly.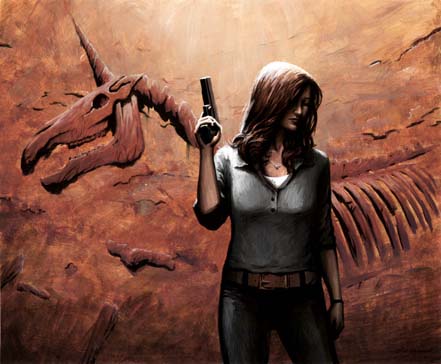 Did you always want to a commercial illustrator?
I've pretty much always wanted to be a commercial illustrator since I saw the work of Chris Moore on the cover of a book that my dad had bought me when I was about 6 called "Space Wars, Worlds and Weapons". From that point on I knew that's what I wanted to do.
I remember when I was about 12 after years of reading Spiderman and Batman I thought "I can do this"! So I mailed a letter to the head office at Marvel asking how do I submit my art (keep in mind this was long before websites and email were a normal way of contact in this business). A few weeks later I got a letter with a photocopied sheet of paper with their submission guidelines. I was just so happy that they sent that letter I didn't care whether I got work submitted or not.
But for years I tried the various companies to get work in comics and I used to receive feedback from the publishers. I remember Todd MacFarlane had written a response to one of my submissions saying we like this and this but you really need to work on this and this . . . I was absolutely thrilled.
That's amazing that you got a response from Todd McFarlane!! So what happened?
Unfortunately I wasn't hired but I'd gained some really constructive criticism from top professionals who were really happy to pass on a little bit of their knowledge to me. And that's something I'll never forget, so when someone asks for my advice on art or how to use an Airbrush or anything involving the business of freelancing I'm happy to give them as much information as I can to help them be successful.
I think this would be a good point to highlight one of your works. Is there one you can describe for us?
For the novella project "Siren Beat" written by Tansy Rayner Roberts, I'd read the manuscript and conjured up several ideas in my mind about what would be a really good selling point for the book. I spent a few hours reading the manuscript (not usually a luxury I have) until a scene in the story jumps out at me that I feel best describes the story. I then make a rough sketch, sometimes several, which I pass onto the publisher who passes it onto the author. I try to make my sketches as detailed as I can within the time constraints so that there is no confusion about colours or composition. Once approved by the publisher, I then take my sketch and increase its size (usually double) and transfer it to an illustration board. Once transferred I'll pencil in all the details sometimes I'll ink or black out larger areas or I'll go straight to colour using paint brush and gouache.
Once it's all painted (this one was quite a quick job) I'll scan the image at a high res, zip it and send to the publisher who is sometimes on the other side of the country or the world. Thank God for the Internet is all I can say.
Siren – Sketch

Siren – Final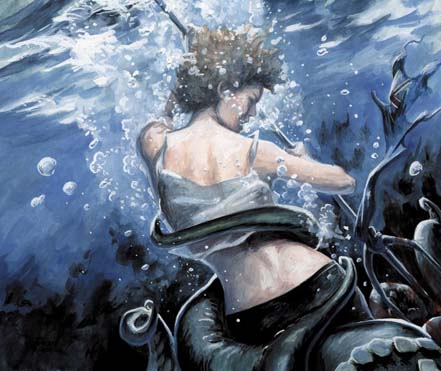 What did you study?

I studied Advertising and Marketing at Curtin University in Western Australia only because it had an illustration class. Unfortunately that year they cancelled the illustration class because at the time a lot of advertising firms and publishers were just using photography and stock images, so everyone was under the assumption that traditional illustration was dead.
After Uni I studied Fine Art for a few years to get some basic knowledge in painting, funny enough though I majored in sculpture and barely touched paper or paint for about 3 years other than my personal work I did at home for fun.
But before then I think my real training came from years and years of just sitting down and drawing for fun whenever I had the chance. Sure as a kid I would ride bikes and get into mischief with my friends for fun but at night or when it was raining and I was stuck indoors I wouldn't waste time in front of the TV, I'd always have a pencil and paper with me, sketching away. I think my earliest cartoons I would draw were Garfield and Snoopy images and then when I started reading Spiderman I would emulate that and eventually I'd come up with my own characters.
When did you get into freelance illustration?
It was around the year 1998 and I was living in Perth, Western Australia at the time I was feeling really stifled about finding an outlet for my art and making a living through creating art. Luckily my neighbour who was an architect and living in the same apartment block as me saw some of my drawings and commented on my perspective work. He suggested I contact some of the architecture firms and get some work doing perspective illustration by drawing realistic interpretations off building plans that the architecture firms can then use to sell to clients or use on marketing material.
Not one to be put off by a challenge I taught myself the old hand drawn way of doing a perspective drawing off the plan (this was around the time CAD was wayyyy too expensive plus I didn't even own a computer) and phoned all the architects in my local area looking for work. I phoned everybody in the phone book until I finally got a large gig with a building developer. And with my foot in the door I was able to get other work with other local firms and I drew some real luxury homes for big clients which was a blast.
I basically dabbled in the perspective illustration field for a while but really had the bug to get into book cover art and especially comics. So I applied the way I found work with architects to finding work in publishing. Luckily by this point I had a computer, email and an online portfolio so I started contacting publishers within Australia and abroad to increase my chances of work. I would set a task each day of contacting 10 or more publishers, authors and editors a day, so if I hit 70 prospective clients a week and got at least one job out of that I considered that to be a good outcome.
That's amazing perseverance. What eventuated after that?
And it started to pay off. I would do some work for an author who might be pitching a children's book to a publisher. A majority of the time the publisher would want to publish the book and hire me for it because the pitch came with artwork so they got a real sense of where the story was headed, so it was a real bonus for both the author and myself as I was getting my artwork directly to the decision makers.
And from there it just grew, I'd work with one editor who would leave a publisher to work somewhere else and hire you at their next employer as well as suggest you to other editors too. Luckily children's book publishing and general publishing in Australia for that matter is a real small community where everybody knows everybody, so my name was passed around quickly.
Did you get the opportunity to do your own work?
Eventually I started to get some really big breaks working for McGraw Hill in the USA as well as the opportunity to write and illustrate 3 of my own books, "Amazeing Ruins Journey Through Lost Civilisations", "The Pegasus Quest" and "The Twelve Tasks of Hercules" which all got published around the world and in several different languages. The last 2 being my favourite as I convinced the publishers into allowing me to make them large format graphic novels for kids that combined puzzle adventures for kids to solve. All of which are still in print today and can be picked up from Amazon or your local book stores (shameless plug).
Hahaha . . the shameless plug is fine. (BTW you can click on the below images to be taken to the Amazon site for Dion's books).

Pegausus Quest :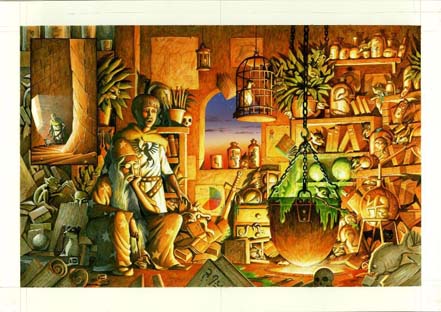 Just from the few samples you've got quite a diverse style. This question seems to catch a lot of people out but how would you describe your artwork?
That's a tricky one. Sometimes I like the really ultra smooth technique with a lot of airbrushing and sometimes I like the rough, looser look with brushwork to bring out a lot of texture. Many companies I work for say I have a comic book style, others a more painterly style. I guess it's a mixture of both.
I generally try to create work that I think best suits the mood of the project I'm working on. A technical manual or advertising catalogue needs to have a very defined, easy to read clear-cut illustration. Whereas a comic book such as "Snowstorm" which I'm working on at the moment, written by Marc Shemmans, requires a softer less defined approach as the story has a horror/fantasy theme where things are not quite what they seem, so I want the art to have that soft, blurry look just as though you were in a snowstorm.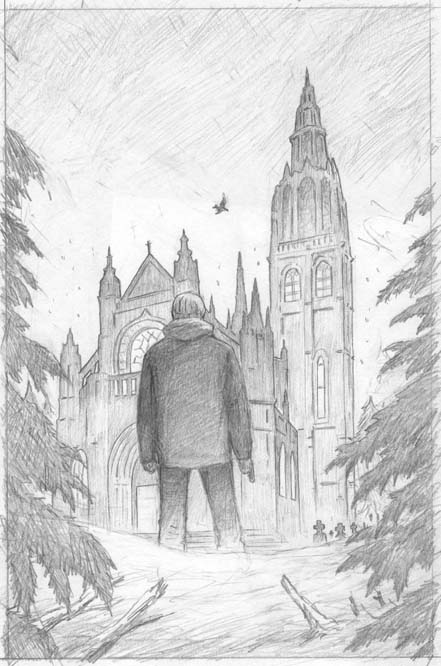 Is there anyone you'd consider as influences?
My influences are many and diverse. I'm a huge fan of Chris Moore, John Howe, Frank Frazetta. I love the sequential work of Joe Jusko (his Tomb Raider project was phenomenal), Todd MacFarlane and anything Guy Davis and Alex Ross.
I've had the privilege of seeing the original artwork of Goya, Monet and Turner and would love to see Raphael, Michelangelo (Not the TMNT) and Da Vinci's work.
At the moment I'm really digging the work of Donato Giancola and Dan Dos Santos as well as the old favourites of Norman Rockwell and Robert Inkwell. There's probably a heap of artists I'm forgetting but everyone has their favourites and there are too many to mention and not enough time.
Incidentally not enough time is the freelance illustrators biggest problem, better get back to work before the next deadline.
Any final words to aspiring artists reading this?
Carpe diem and keep creating!!!
Thanks so much for your time and wish you all the best in your future endeavours!
For more of Dion's work check out :
Posted: November 27th, 2009 under art, comic, Featured Artist.
Tags: artwork, dion hamill, graphic novel art, siren, sydney
25 Responses to "Artwork of Dion Hamill"