Powergirl by Noelle Dreves
Noelle Dreves is a 22 year old freelance artist from Brisbane, Australia. Her Powergirl illustration captures the subject in a very dynamic pose in a difficult angle to draw. The final coloured picture helps to bring out the highlight in the hair and costume.
Powergirl Preliminary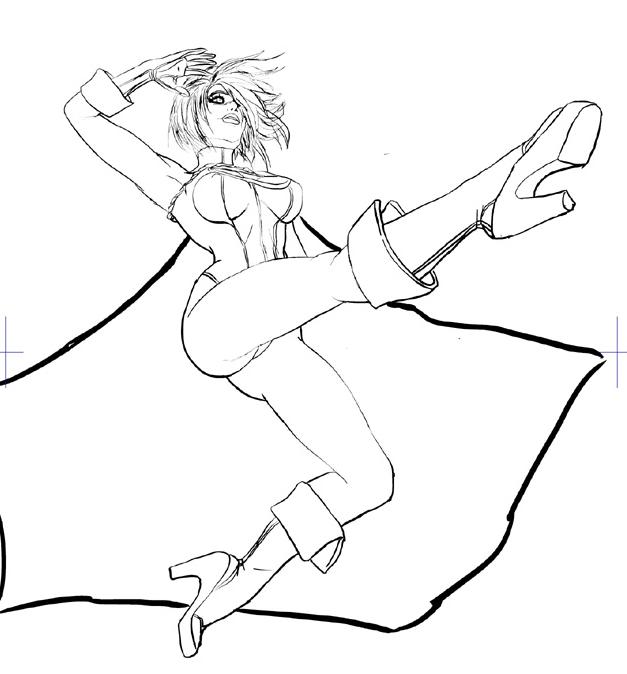 Powergirl Final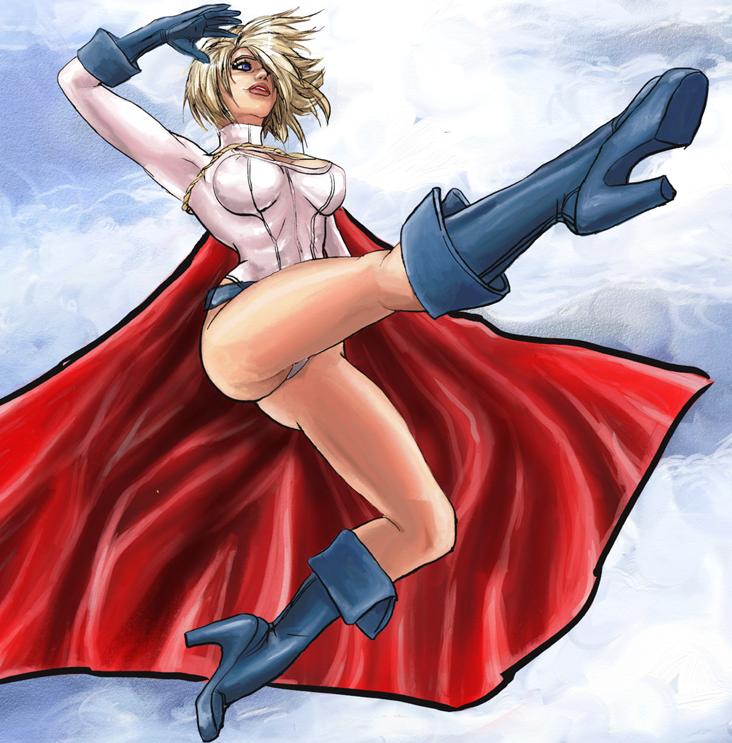 Although the artist was not entirely happy with the result on Powergirl's cape, hopefully you were too distracted by the anatomy detail to notice.
So Noelle, tell me a little about yourself.
I'm studying a double degree in Science of Psychology/Criminology and Criminal Justice. I'm a crazy animal lady (8 pets and counting), I love cats, comics and deviant psychology. I also do booth babe duty for Krome Studios (The Force Unleashed, Blade Kitten). My guilty pleasures are gaming and costuming (I'm known as the Brisbane Catwoman).
Cosplay? That's very cool! You definitely have to share a photo now. (Note : Noelle was nice enough to supply a photo of herself as Rogue Shadow Pilot Juno Eclipse)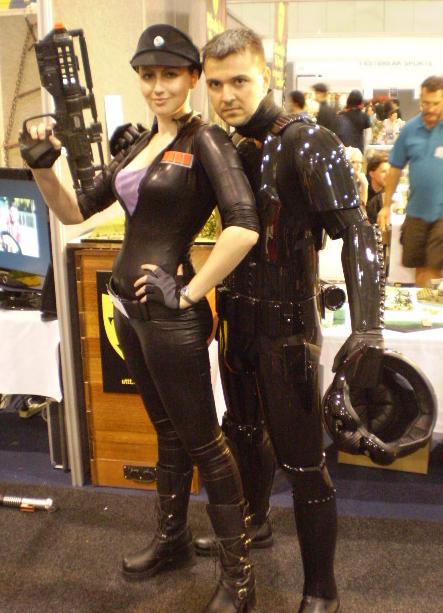 Anything else that interests you?
I also love to work out and study history. I also research serial killers and psychopaths in my spare time, since I have a huge fascination for how the human mind works. At least now I can say it's studying for my degree!
That's fascinating! Must be interesting to try and decipher what makes certain people react in certain ways. How would you best describe your art style?
I love dames, gun bunnies, tough chicks – you name it, girl power! My art is defined by women with big eyes, pouty lips, wasp waists, curvy legs and a defiant attitude. My fellas tend to have an overabundance of scar tissue, brooding eyes and wicked grins. I love noir, horror and sci fi, but the most used element in my art is duality. No, I'm kidding, it's cheesecake bondage. Yes, I seem to have carved a niche for myself in the super heroine pin up bondage market. It's never blatant, never gross, never misogynist – and a whole lot of fun planning out the knots.
Did you go to any art classes or specific training?
I'm self-taught. Both my grandfathers and my great-grandfather were artists, so it runs in my blood. I don't do well in art school situations, frankly! I even got an E for Art in high school, despite constantly drawing during my other classes.
Are there any artist you look up to?
J Scott Campbell was my earliest influence – my first TPB was Danger Girl. Right now I'd say my work is a combination of Alessandro Barbucci (Sky Doll, W.I.T.C.H), Disney, Frank Cho and Bruce Timm. Throw in a little Frank Miller with my work on Strange Case and a little Jim Balent with Atomica Bang Bang.
I loved Balent's work on Catwoman, especially liked how he captured movement. Of course Cho's Liberty Meadows is a guilty pleasure! Anything else you would like to add for any aspiring artists?
The best advice I can give to any struggling artist is keep on keeping on. The more you draw, the more you experiment, the better you'll get! Don't be afraid to go new places with your work – you never know, you could discover your niche.
Be sure to check out Noelle's Gallery and her webcomics:
Click for Commission Information or email her quotidia_b [at] hotmail.com
Posted: January 25th, 2009 under art, comic, Featured Artist.
Tags: Catwoman, cosplay, powergirl, sexy
2 Responses to "Powergirl by Noelle Dreves"