Marvel Beginnings Sketch Cards – Frankie Washington – Sneak Peek
Featured artist Frankie B Washington has allowed me to showcase his sketch cards for the upcoming Marvel Beginnings card set. Artists sketch cards are randomly inserted 1:72 packs! More sketch cards will be show in the next few days but thought I'd show a "sneak peek" of things to come!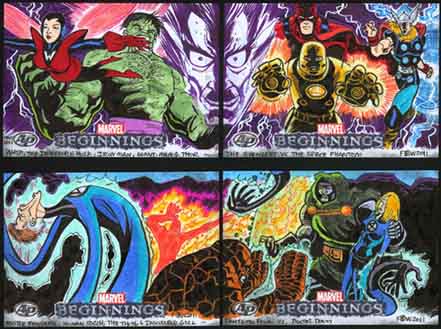 I've been reading JMS run on Wonder Woman starting from issue 601. Haven't been a big WW fan but this storyline has definitely hooked me! Just finished 608 and looking forward to getting my hands on 609. It's really an alternate "origin" story while leaving the appropriate cliffhangers.
Posted: April 3rd, 2011 under art, comic, Featured Artist.
Tags: 602, 603, 604, 605, 606, 607, 608, Avengers, cbr, cbz, Doctor Doom, fantastic four, FF, JMS, Marvel Beginning, Marvel Beginnings, sneak peek, spoiler, Trading Card, Wonder Woman 601
One Response to "Marvel Beginnings Sketch Cards – Frankie Washington – Sneak Peek"