Supernatural Julia Maxwell Mother of All
Supernatural has concluded in 2010, with the closure of Sam's soul story arc. I've just seen the newest episode (S06E12 – Like a Virgin) and it's a great start picking up on the "monster purgatory" storyline. A new villain is introduced as the "Mother of All" portrayed by Julia Maxwell. Can't wait for the rest of this season to see how this develops!
Photo on Set :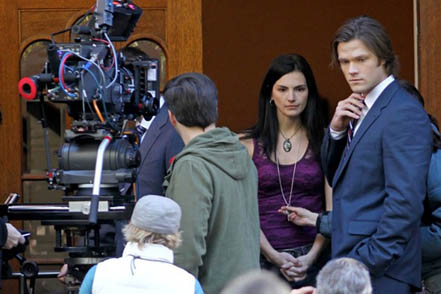 Those are unbelievable green eyes!
Julia Maxwell :

Posted: February 6th, 2011 under Movie TV.
Tags: 2011, Jenson Ackles, Julia Maxwell, like a virgin, Mother of All, S06E12, supernatural, torrent, tv series
One Response to "Supernatural Julia Maxwell Mother of All"