City of Abacus by VV Brown and David Allain
It's been a while since my last comic reviews (Dusk and Negafighters come to mind). I was fortunate enough to get a preview copy of City of Abacus by British musician and model VV Brown and David Allain prior to the official 07-May-10 release date.
With an amazing backstory covering political intrigue, royalty (and affairs), forgotten children and throw a brewing war into the mix. The preview I saw was promising although it was only a glimpse, from the sample provided you get an idea of the art style of the works. Great for an independent Emma Price but not as polished as more mainstream or established artists.
Cover :

Interior Sample :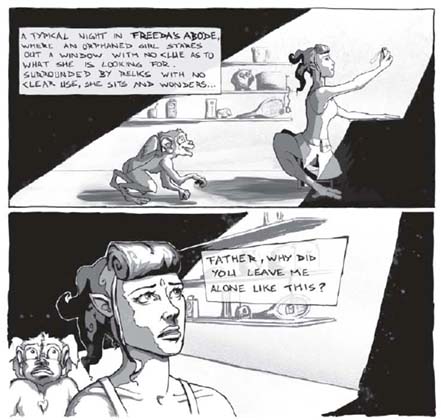 For more information or to pick up your copy visit :
http://www.thecityofabacus.com
Special thanks to Ben Moore for allowing me to showcase this comic!
Posted: May 6th, 2010 under art, comic, Featured Artist.
Tags: City of Abacus, David Allain, Emma Price, VV Brown
5 Responses to "City of Abacus by VV Brown and David Allain"