Puny Parker – Season 2 – Vitor Cafaggi
Vitor Cafaggi has completed his first season of Puny Parker ending on an amazing finale. You can check out more of Puny Parker on this site or at his blog. This was to not to be end, with Season 2 showcasing some amazing strips.
Season 1 Finale –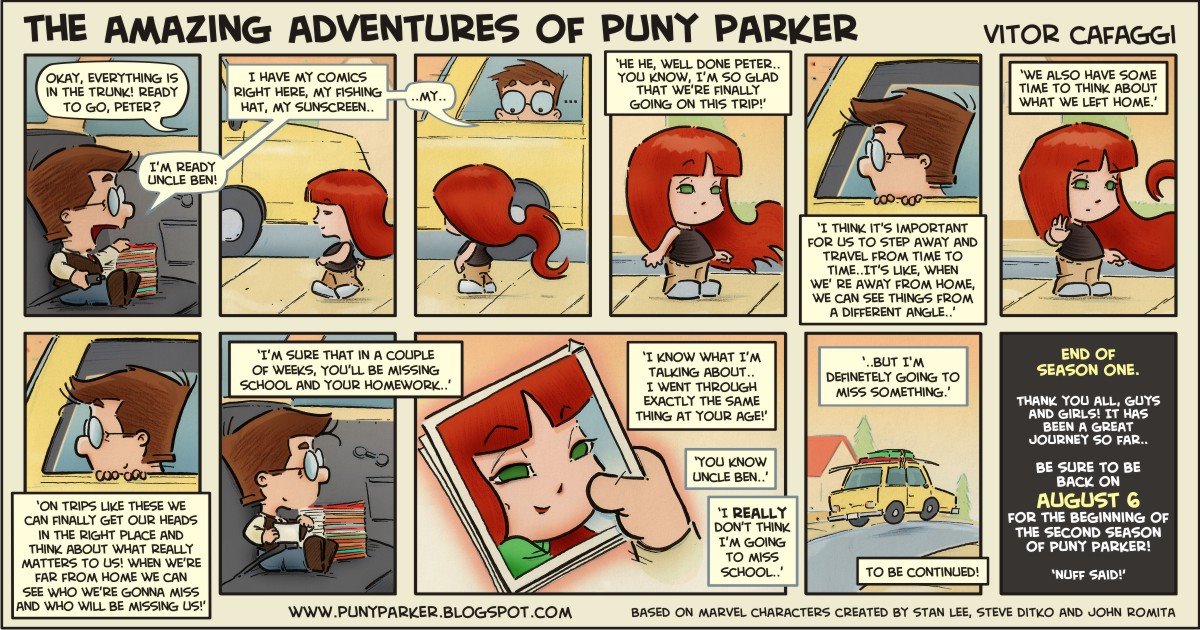 What plots do you have in plan for Season 2?
Right know, we are reading the Halloween II saga! We already had the 'Return of Captain America' with a certain blind guess star. And at the beginning of 2010 'The black costume saga'!
Any new characters being introduced?
The main cast will be the same. Expect more Black Kitty, Mrs. Brant, Little Mrs. Stacy . . and a certain hot head guess star.
Any character changes? Looks? etc.
Just Puny Parker changed his look for this second season. But I can tell you that for the third season, one of the character is gonna have a major look change.
Thanks for your time and I think it's fantastic you are already planning for Season 3!
Anyway I thought I'd include the start to Season 2! Remember to check out more of Vitor's work at http://punyparker.blogspot.com
It's great to see Mary Jane again! This one reminds me of this previous strip where we get to see the characters all grown up.
Posted: October 14th, 2009 under art, comic, Featured Artist, Puny Parker.
Tags: mary jane, Puny Parker, spiderman
One Response to "Puny Parker – Season 2 – Vitor Cafaggi"