Halloween Wonder Woman by Frankie Washington
Previous featured artist Frankie Washington (artist for Marooned on Mogo) provided this amazing piece of artwork of Wonder Woman in Halloween dress inspired by the late Gil Elvgreen. Very Happy Halloween y'all. Don't eat too much candy.
Coloured image :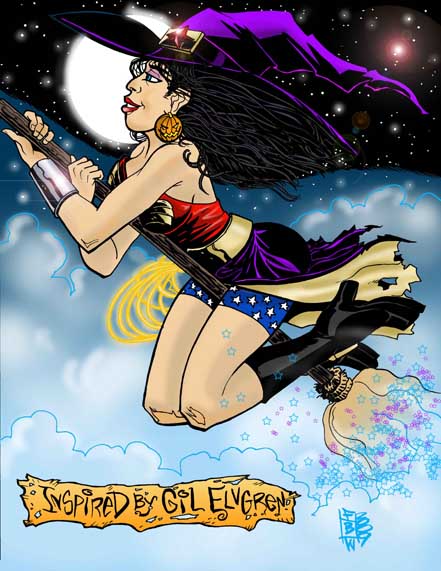 Black and White image :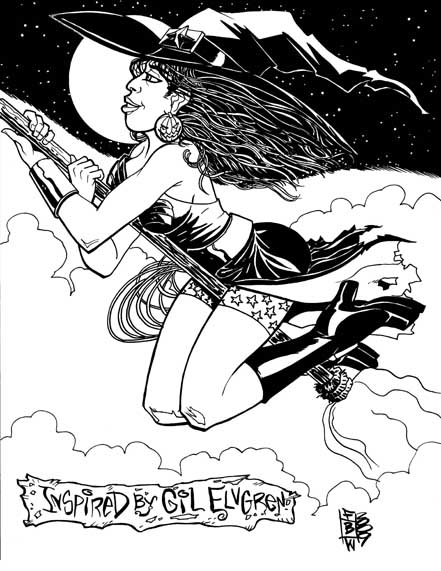 Really like this image and the details. Especially Wonder Woman's free flowing hair and the little pumpkins used as earrings.
From Gilelvgren.com by Charles G. Martignette :
"Gil Elvgren (1914-1980) was the most important pin-up and glamour artist of the twentieth century. During his professional career, which began in the mid 1930s and lasted more than forty years, he established himself as the clear favorite of pin-up collectors and fans worldwide. Although most of his work was created for commercial use, it has been increasingly recognized as "real" art by many private collectors, dealers, galleries and museums. And indeed, though Elvgren has been considered as mainly a pin-up artist this last half-century, in reality he deserves recognition as a classical American illustrator whose career encompassed many different fields of commercial art. He was always a master in portraying feminine beauty, but his output was by no means confined to the calendar pinup industry."
Posted: October 31st, 2009 under art, comic, Featured Artist.
Tags: artwork, bbww, frankie, gil elvgreen, graphic novel art, halloween, Wonder Woman, ww
7 Responses to "Halloween Wonder Woman by Frankie Washington"