Puny Parker – Vitor Cafaggi – 01
Every Friday will be Puny Parker Friday.
Check back once a week for a new strip!
Click here for next week's Puny Parker . . .
Brazilian graphic designer Vitor Cafaggi has been creating comic strips called Puny Parker which chronicles the life of young Peter Parker. It's the most amazing strip I've seen in a while. Vitor has also been nice enough to chat to me about his work.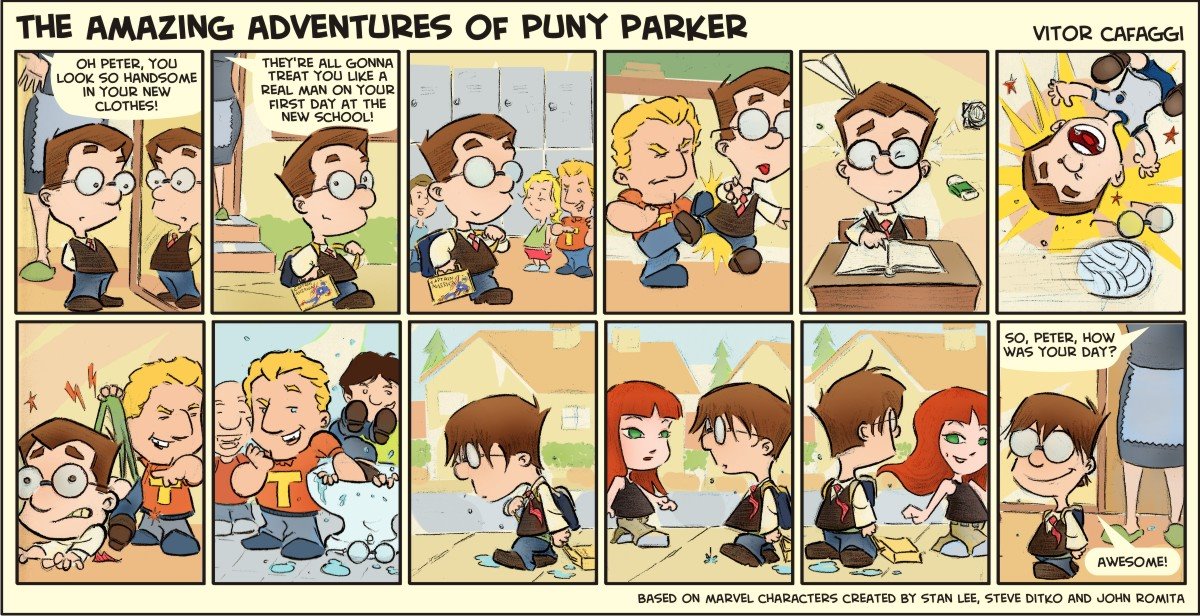 So tell me about yourself.
I like all kinds of comics, drawing, movies, music and love soccer. I don't like video games very much though. I create drawings for advertising campaigns and I also teach kids art.
Any comic aspirations?
I've always dreamed of working with comic books, so recently I started to write and draw my own graphic novel (you'll hear about it soon, I hope) in my spare time.
Tell me about "Puny Parker".
What was the inspiration?
I've been collecting Spider-Man comics since I was seven. At the same age I used to watch Peanuts cartoons every day. I always thought there were many similarities between Peter Parker and Charlie Brown . .
I love Snoopy and Charlie Brown too!
So was that how it started?
Yup, I think that's where Puny Parker was born. He was there, on my mind, since I was a kid! I try to figure out what kind of different situations Peter Parker had to face during his childhood to become the man that we all know. I don't know exactly when, but about a year ago, the ideas for the comics started to take shape. I sketched the main characters and drew the first Puny Parker adventure. A couple of months later, I decided to make these comics on a weekly basis. And here we are, there's forty of them now!
I love the art! It really suits the material.
Is this your usual style?

Actually, I don´t know how to describe it.. Puny Parker isn't even my usual art style! I imagine every Puny Parker comic as a short animation, with simple camera angles and simple character designs. Visually speaking, I think that Puny Parker is strongly influenced by Bill Waterson's Calvin and Hobbes. As for the storytelling, my biggest influence would be Jeff Smith's Bone.
Thank you so much for your time. All the best with your graphic novel!
Link to : Puny Parker Blog
Posted: March 27th, 2009 under art, comic, Featured Artist, Puny Parker.
Tags: art, comic, comic strip, mary jane, Puny Parker, spider-man, spiderman, spidey
15 Responses to "Puny Parker – Vitor Cafaggi – 01"