Judge Dredd by Gary Erskine
Gary Erskine (Dan Dare, Authority, Army @ Love) made an appearance at Kings Comics all the way from Europe! Although sporting a cold from climbing the Sydney Harbour Bridge during a hail storm, he was exceptionally pleasant and chatted about his various experiences from his amazement of Dark Knight at IMAX to his love of Indian and Mexican food.
He was happy to discuss his art as well as mention some of the inspiration behind his panels. e.g. The space shipyard in Dan Dare was a photo reference of the vents near the Harbour Bridge! He puts an amazing amount of detail into his inking and work.
Be sure to check out his blog to find out more about him or for any posts or updates. For more information, check his website.
Gary sketching Judge Dredd for me. He mentioned he preferred doing Dredd rather than the female Judge Anderson.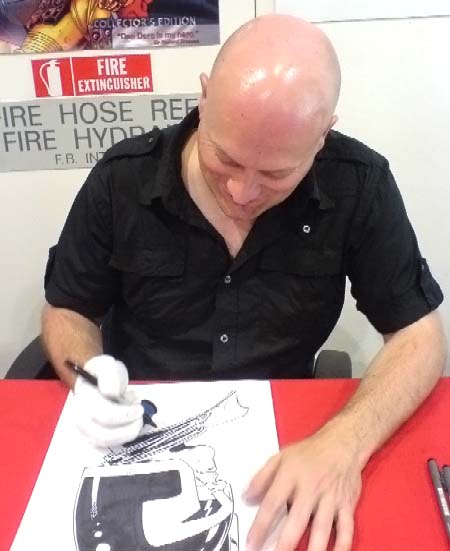 The final Judge Dredd picture!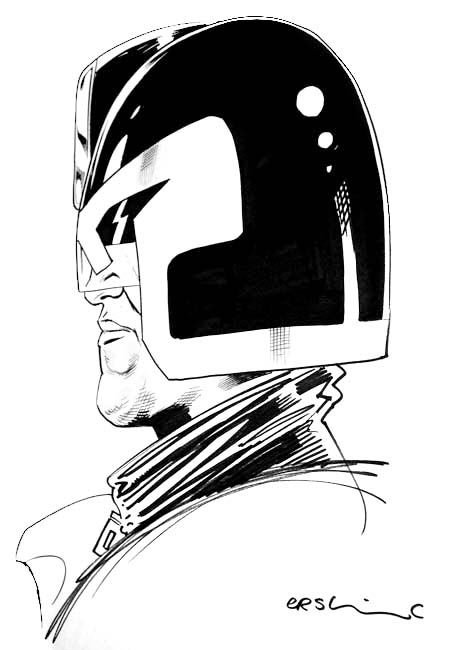 Posted: November 7th, 2008 under art, comic, Featured Artist.

One Response to "Judge Dredd by Gary Erskine"