Jim Lee and Geoff Williams
Jim Lee (All Star Batman and Robin) was in Melbourne (approx. 1000km south of Sydney) doing an appearance for the Armageddon Multimedia Expo Australia. A friend of mine (who's a comic fanatic) was especially excited to meet him in person but unfortunately due to the long queue was unable to get an autograph or a sketch. However Jim did a Q&A panel and my friend was able to listen to Jim field some questions from the audience. The entire story about the event is here with photos! I have been a fan of Jim Lee since his X-Men days, hopefully he makes it up to Sydney for a convention soon!
On another note, there was a local market in Neutral Bay (approx 5km away from Sydney CBD) where some stalls were selling odds and ends and others selling various foods. Entertaining the crowd was singer songwriter Geoff Williams playing his style of country music. The photo captures his calm and laid back presence as he entertains the crowd.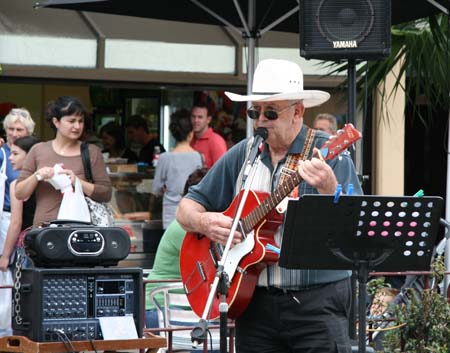 Posted: November 3rd, 2008 under comic, Photography.

2 Responses to "Jim Lee and Geoff Williams"