Joker by Rich Hennemann
Rich Hennemann has one of the most incredible art styles. Scroll down to the bottom of this post if you want a quick look at his work. He also maintains a blog where he posts up new pieces of work. I managed to catch up with Rich to ask him a few questions.
Where are you from originally?
I'm from Massachusetts, born and raised. I currently live in the southeastern part of the state, with my wife, who is expecting our first child in just a few weeks.
Congratulations on your first child! All the best, I'm sure parenthood will give you a new perspective on life. In terms of your art who do you consider your influences?
My influences vary. I'm a big fan of comics, and more specifically comic art, so that's where it all began for me. The first comic I ever read was an issue of Spidey by Todd McFarlane. From the second I opened that book, I knew I wanted to draw. I wouldn't say that McFarlane is an influence on my work exactly, but he was the one that really made me want to draw.
The biggest artist influence on me would be Tim Sale (even though you can't really see it at all in my art). He excites me, and inspires me, and just does things that I can't do, which is what really draws me to his work. He has a style that is completely his own, and I do my best to learn from his masterful storytelling, design and technique.
I also have a great love for the work of Darwyn Cooke, John Romita Sr., Robert McGinnis, Fritz Willis, Drew Struzan, Scott Morse, Bill Presing, Juanjo Guarnido….I could probably go on forever.
That's a lot of people. Is there someone specific you consider your greatest motivator to pursue this career?
While all of these amazing people inspire me artistically, my main inspiration, and the reason I draw and paint today, is my wife. I spent a good deal of my childhood and early adolescence drawing. From crayon masterpieces for my mom, to doodles on my school textbook covers, to mimicking my favorite comic book artists, even creating my own comic books and magazine covers.
I continued drawing, albeit less and less, throughout my high school years….but as the years went on, and adult life began to take over, I eventually stopped drawing almost completely. That is, until I met the beautiful woman who would inspire me, and encourage me….and who would eventually become my wife. She is the reason I put pencil and brush to paper, and for that, I could never thank her enough.
You're showcasing two art pieces. Would you elaborate a little bit more on them?
I'm a big movie buff, so I'm showcasing a painting of Jack Nicholson's Joker that I really like. Jack's performance is one of my all time favorites, and even though this was a rather quick painting, I had as much fun doing it as any I can remember. This was roughly penciled on an 11 x 15 watercolor board, then painted (and mostly drawn) with watercolors.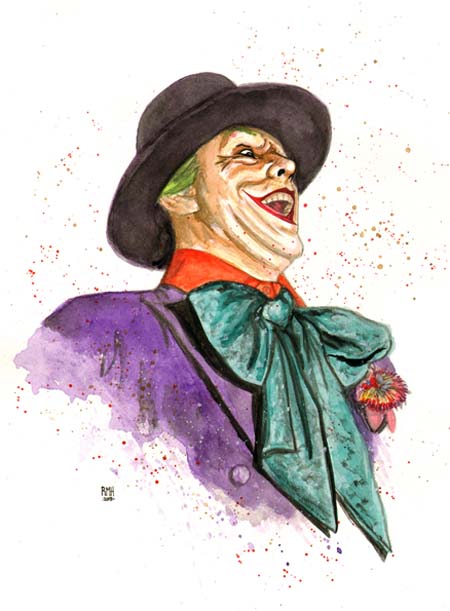 Your Joker is amazing! I think it's fantastic. It's a very different style to the piece done by Jack Redd. Even though it's a brightly coloured piece, it still has a very sinister feel to it. Onto the next piece, so how did you create the World's Finest piece?
This piece was done in pencil, ink and watercolor on colored canson paper. It was done as a gift for a good friend of mine in Hawaii , who is an avid collector of World's Finest commissions. Superman and Batman are my two favorite comic characters, but being so different, it can be hard (at least for me) to draw them together. Superman is light, Batman is dark. Metropolis is bright, Gotham is not. Getting them to fit in the same mood can be a challenge, but I'm happy with the results.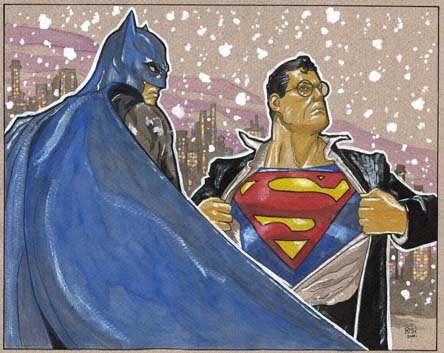 Thanks for your time! I really like both works of yours. Very different feel to both of them. Wish you all the best on your first child and future endeavors.
FYI – If you like Rich's work check out his eBay Auctions to grab a piece of original art or a commission.
Posted: November 1st, 2008 under art, comic, Featured Artist.

2 Responses to "Joker by Rich Hennemann"