She-Hulk by Michael Bridges
Michael Bridges does some of the most incredible paintings with a focus on superheroes. More of his samples can be found in his site Superhero Portraits. If interested in purchasing any of Michael's work you can check out his eBay Auctions. I was fortunate enough to ask Michael a few questions in relation to his work.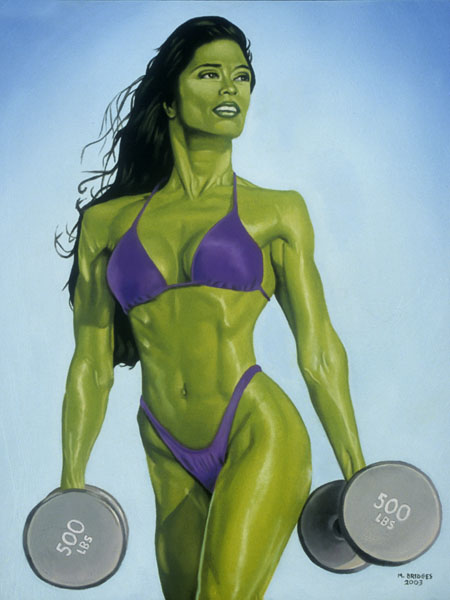 So Michael, tell me a little about yourself.
I first showed an interest in art as a child at about the age 4 or 5. I became interested comics in Junior High School, which is now called Middle School (which dates me) and is also the time I started drawing them. In high School I was introduced to the art of Salvador Dali and surrealism that's when I switched from comic book drawing to surreal painting.
What got you to move from surreal painting into comic book art?
I had been doing surreal art for some years and had become pretty good at making my paintings look realistic. I had always loved comics and had thought of trying my hand at maybe trying to do realistic comic book character paintings especially when Alex Ross came on the scene. When I started selling my art on eBay I noticed that comic book art was selling very well so I decided to give the realistic comic book character painting a try and it worked out pretty good for me.
Alex Ross is probably the most definitive comic painter of our times. He was able to move comics away from the cartoony. Is that how you would describe your work?
You can describe my art as fine art and comic book art.
Besides Alex Ross, whose art do you admire?
Neal Adams, Gil Kane, Jim Lee, Whilce Portacio and my all time favorite is Jim Steranko who I don't think get any credit for the influence he had on comics.
Thanks for your time and sharing the your She-Hulk image.
She-Hulk is probably one of the more difficult characters as she has to be both sexy yet muscular at the same time. The muscle tone of the character and lighting of the piece is fantastic!
Posted: October 19th, 2008 under art, comic, Featured Artist.
Tags: alex ross, michael bridges, she hulk
8 Responses to "She-Hulk by Michael Bridges"