Manly Sea Eagles – 2008 NRL Premiership!
For those who follow the NRL, today's Grand Final between the Manly Sea Eagles and the Melbourne Storm was a fantastic match. It was an extremely tense first 20 minutes with both sides playing their hearts out. Two tries to Manly brought the halftime score to 8-0. Still anyone's game at this point, a converted try and the game would be a contest once again.
However, after the start of the second half everything changed. The Storm looked tired and unfocused which was quickly pounced upon by a hungry Manly side eager to avenge last year's loss. A close game became a blowout with the final score 40-0. The Manly side holding out whatever the Storm could throw at them and following up with some spectacular plays. Devastated after Manly's last year's Grand Final loss only made this victory taste so much sweeter.
Additional Information :
Rugby League is very much an Australian sport and played mostly in New South Wales (Sydney is the capital of NSW). It's a very simple premise (similar to Rugby Union or NFL) get the ball to your opponent's end to score a try and stop your opponent's from crossing into your side.
Official Site :
http://www.nrl.com.au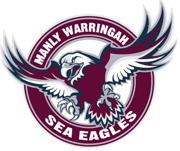 Posted: October 5th, 2008 under Website.