Transhuman – Sketches
In a world where the body can be replaced with cybernetics, what does it mean to be human?
I've been so excited waiting for this arrive. I finally got the chance to pick it up this morning and it's absolutely gorgeous. This is the rewards sketches for Transhuman!
Sebastian Navas
has done the most incredible job on them. Wow! I am totally stunned. I'm in the process of getting Transhuman laid out. Still hoping to get the proofs ready in the next week or so, then it'll be a full review before authorising the first print run. It's definitely getting very exciting now.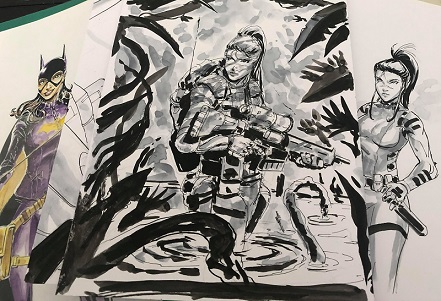 Posted: November 21st, 2020 under art, comic, Featured Artist, Transhuman, Website, Writer.
Tags: 5 Seconds, Blue, Ellie, Jake, Keenan, Mia, Most Wanted, Rivka, Road so far, Shaun Paulet, Sparky, Tabby, Tabby Sketchbook, Terralympus, Word Smith, XCT