Word Smith – Terralympus – Transhuman – NEWS!
So many things are happening here at Sigmate Studio. I thought it would be a good opportunity to use this post to do a quick recap.
Word Smith
I'm still waiting on the original artwork to arrive from Poland. I'll be able to complete the final reward shipment when they are here. Thanks for your patience! The next volume of Word Smith will be going into full production in July. This will be very exciting if it progresses well as it will allow me to take it for crowdfunding towards the end of 2020. The artist and colourist are both lined up and ready to go.
Terralympus
Volume 2 is in the process of getting put together for printing. The first print run should be in August and rewards to go out around that time. The original sketches are due to arrive in August so they shouldn't be any delay there. Illustrating for Volume 3 will commence in July! I am doing everything possible to shorten the timeframe for both Terralympus and Word Smith so you don't have to wait for the next exciting chapter.
Transhuman
Wait there's still more? A sleeper project I've had on the backburner is moving into colouring in July as well! I've engaged Sydney colourist, Chris Pitcairn on this one and it will get started on this. I've attached a sneak peek on the artwork by illustrator, Allen Sands.
Whew . . all 3 projects (Word Smith, Transhuman and Terralympus) are going into production in July, it's going to be an absolute crazy period for me. I'll try my best to keep sharing updates as they happen.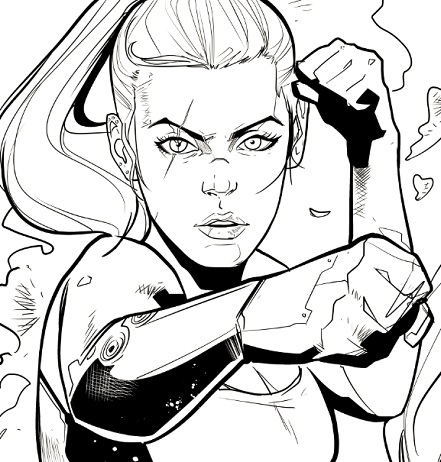 Posted: June 22nd, 2020 under art, comic, Featured Artist, Terralympus, Website, Word Smith, Writer.
Tags: 5 Seconds, Blue, Ellie, Jake, Keenan, Mia, Most Wanted, Rivka, Road so far, Shaun Paulet, Sparky, Tabby, Tabby Sketchbook, Terralympus, Transhuman, Word Smith, XCT