Nyobi – Kickstarter – Larry Higgins
Click to check out Nyobi Kickstarter.
Nyobi #1 written by Larry Higgins and illustrates by David Coates is the first issue of a J-Pop who discovers she has teleportation powers. However the writing is not your standard superhero fare.
Cover :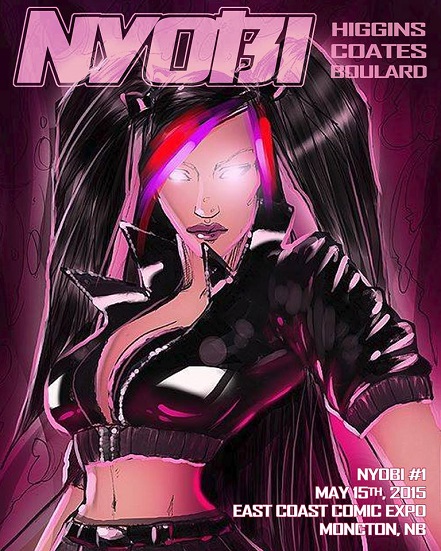 I was provided an initial preview copy and was impressed by the writing. The initial pages focused on the victim as as fiend seeks out his next target to torment. The slow build up rather than jumping straight into a display of Nyobi's super powers developed the story better.
I have previously seen Coates's work on Psychosis and his art in the preview pages suits the story. It has a nice flow and I especially like how the fiend (who's basically a shadow) is drawn in and interacts with the panels.
Sample Interior :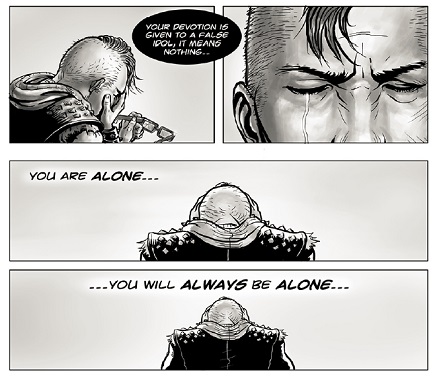 What was your inspiration for Nyobi?
Nyobi is a character I created back in 1990. I was doing alot of table top RPG's such as Heroes Unlimited and I created this spunky Jpop teleporter. Over the years I kept her and played her in other superhero RPG's. I started to draw her and used her in my own games. A few years back we were sitting around the gaming table and I said wouldn't be cool to take our characters and write a comic. We had so much imagination and I had 20 years to developed Nyobi. After that night I was on a mission, I was going to make this comic and I never looked back since.
How far have you plotted Nyobi?
Currently I have plotted out the first 12 issues of Nyobi which all ties into each other as we get to #12. It leaves us with some answers and some questions. Our goal is to have this as an ongoing series, there is no ending until we feel that it has ran it's course. As long as people want Nyobi we will aim to deliver.
Has Nyobi been easy to write?
The hardest part of writing Nyobi was how to start it. Once I had that figured out the rest was just a matter of time. I wanted Nyobi to be more then your standard comic book. I want Nyobi to be a book with a message. We take on social issues in our book. We look at it from the point of view that this is a real world with real problems and just not who the villain of the month is. We are delivering stories that people can really related too. The character Nyobi is over 20 years old, and she still remains my favorite character I have created. It's only now that she really evolves, bringing her from RPG's into comics really makes one examine their creation more closely.
How is it working with David? What do you like about his artwork?
David is fantastic, without David this would never be happening. David and I had talked about this on and off for months and I am so glad he is on my team. Andre Boulard is our cover artist and he also has set the shading tones in the book. I work with two of the best, two guys with a love for art and a passion for comics. Each brings something unique to the table. David brings that dark aspect, that grim reality style he has to the book. David has away of taken what I have written and enhance it beyond my imagination. Andre's covers and prints speak for them selves, they are dynamic, they are flashy, they are in your face. His art showcases the attitude of Nyobi. He and David make an awesome team and expect more from them in the future.
I also have to mention Veronick Roy who has guest art in our book along with 7 other fantastic artists. Veronick has been the team's leading cheerleader. She has help keep everyone on track and has provided wonderful incite to all of us. Finally my family who has been my strongest supporters and backbone, thank you. And a shout out to Emily Zombieguts, our fantastic cosplay model
Emily Zombieguts :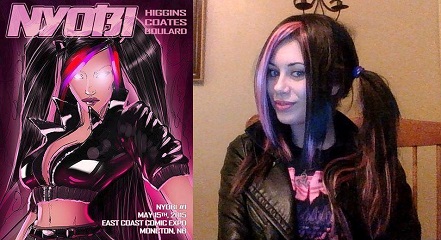 Any last message for the readers?
Walking away from Nyobi #1, I hope that everyone felt as if they went on a journey. I hope the book makes you think, I hope it provides inspiration. I know by the end of the book you will be hungry for more !!

Thanks for you time and good luck with the Kickstarter!
Click to check out Nyobi Kickstarter.
Posted: January 27th, 2015 under art, comic, Featured Artist.
Tags: David Coates, kickstarter, Larry Higgins, Nyobi