Artwork of Robert Sage
Robert Sage initially created artwork in oils for various galleries and art fairs. He has started his transition into story telling and more sequential work. He's also currently on first play through of Final Fantasy XII and reading Douglas Adam's Dirk Gently's Holistic Detective Agency.
Above the Treetops :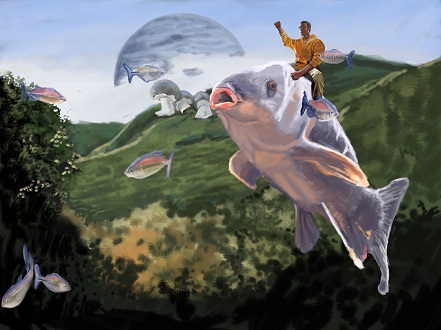 Thanks for your time to answer a few questions! How would you define your work?
In my illustrations, I play God with physics and biology to create fantasy and sci-fi realism with a surrealistic twist. I am trying to do this with my current project, creating my webcomic as well. I often play with scale, making subjects smaller or larger to make ordinary objects and places seem magical by giving it a new perspective.
Where do you get your inspiration for your work?
A lot of my inspiration for my work comes from being out-doors, traveling, or being generally curious about the possibilities of every-day things or experiences. I find life's little micro-dramas to have a lasting effect even though we tend to push them to the side of our imagination. Creating a fantasy out of that, instead of say dragons and castles, is the primary focus of my artwork.

Are you currently studying? Where do you see your next steps?
I'm attending classes at CGMA and hope to finish their program for concept art and character design. Once I am finished or during I hope to find a job working in concept art for movies or games.

You mentioned earlier that you wanted to move more into story telling. Is there anyone (or works) in particular that you follow?
Two of my favorite storytellers have to be Hayao Miyazaki and Shinichiro Watanabe. Hayao for his portrayal of women and female leads as well as his focus on nature and whimsical themes bordering on the surreal, and Shinichiro Watanabe for his ability to bring together characters with such broad backgrounds and create a story that is as much about them as it is about the world they live in.
Visually I find myself being drawn to artists such as John Singer Sargent, for his loose brushwork but steady composition, and Magritte for his subtly outrageous portrayal of ordinary objects in extraordinary ways. More recently I find myself drawn to more contemporary artists like Stjepan Sejic and Miles Johnson for their ability to create realistic figures from their head.
Are you currently working on any projects?
I'm currently working on a scifi webcomic called "A Cup of Martian Coffee" I hope will be ready at least by mid February. It is a story about Jess, a shapeshifter that travels the galaxy photographing alien life, ruins, and unfamiliar planet-scapes; TEN, a sentient robot who gave up space piracy to open a coffee shop called "The Eye" on Mars, and a girl named Dana, a graphic artist born in 1990, who after waking up from being frozen finds her graphic design knowledge is 113 years out of date, so finds a job working at "The Eye" to pay the bills when she is not traveling around with Jess as her artistic apprentice, and finding adventure along the way.
Wow! That sounds like an interesting story.
Thanks again for your time and good luck with your future endeavours!
You can contact Robert for commission through social media or by emailing him robert.jones.sage [at] gmail.com.
For more of his work please check out :
Snow :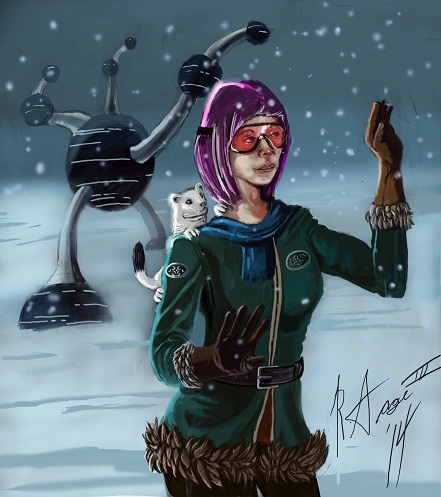 Posted: January 30th, 2015 under art, comic, Featured Artist.
Tags: artwork, Oil, Robert Sage