The Griff – Christopher Moore – Ian Corson – Jennyson Rosero
I recently received a copy of The Griff from William Morrow (an imprint of HarperCollins Publisher) for review. The story is by Christopher Moore and Ian Corson with Jennyson Rosero supplying the artwork.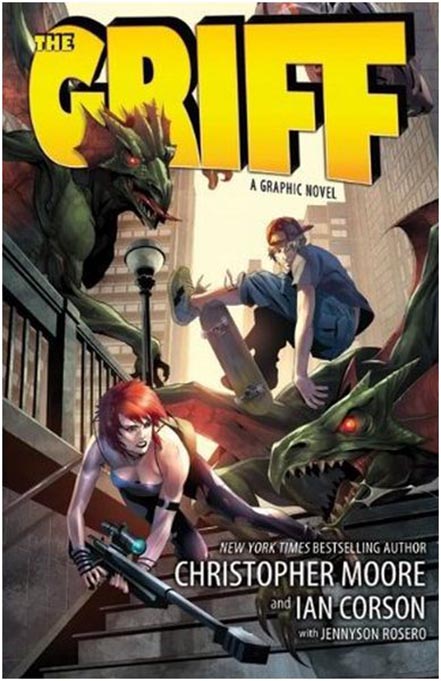 Description : (from Harper Collins)
Outrageously funny New York Times bestselling author Christopher Moore and award-winning screenwriter-director Ian Corson team up for a wacky and entertaining graphic tale of alien invasion and a motley crew of Earthlings trying to stay alive and, oh, yeah, save humankind.
The mayhem begins when an ancient alien beacon is unwittingly activated, summoning behemoth spaceships from the far reaches of the galaxy. Hovering in Earth's atmosphere, they release a biblical stream of pods that transform into minivan-size, people-eating, flying lizardy things that look like mythological griffins. Destroying communications, emergency, and military infrastructure, they systematically kill everyone on the planet. Well, almost everyone.
Review :
Really this reminded of the movie Evolution (starring David Duchovny). Huge threat, end of the work event but still felt a little kooky with loads of video game references. Definitely a fun read but somehow didn't gel as an apocalyptic event. (I expected a little more sadness when you are the last of your kind and have lost everyone in your life.) I didn't expect The Walking Dead morbid but it felt too much like it was a merry adventure.
The artwork for the series was a good showcase for Rosero although some pages felt a little rushed and patchy. I was hoping for Rosero to really go crazy on some of splash pages but unfortunately that didn't eventuate. Still an enjoyable read and without spoiling the ending, finishing on a happy note complete with a sunset.
Copies availabe from Amazon.
Posted: July 18th, 2011 under art, comic.
Tags: artwork, Christopher Moore, graphic novel, Griff, Ian Corson, Jennyson Rosero, review, The Griff